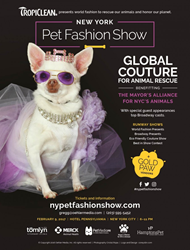 The largest pet fashion & animal rescue benefit in the United States
New York, NY (PRWEB) January 31, 2017
Welcome to the 2017 New York Pet Fashion Show Presented by TropiClean. This year's theme is "Global Couture for Animal Rescue", and features World Fashion to Save our Animals and Honor our Planet. The show is a celebration of our love for animal rescue which helps save animals' lives, and will benefit The Mayor's Alliance for NYC's Animals and their 150 participating shelters and rescue groups.
The NY Pet Fashion Show is honored to have Merck Animal Health, Tomlyn, and Hamptons Pet magazine as this year's Best in Show sponsors..
This year's host and MC is Celebrity Pet Expert Harrison Forbes, and the Gold Paw awards will feature Beth Shak-Levenathal as the 2017 "Humanitarian" award winner.
A special appearance with the "Best of Broadway" featuring Hamilton, Cats, Phantom of the Opera, Lion King, Wicked, Kinky Boots, Chicago, Aladdin, and more.
The models and designers will feature Couture Fashion inspired by their favorite Designer, Country, Culture, Ethnicity, or City. Fashions from Italy, France, Thailand, Egypt, USA, United Kingdom, India, South Korea, Puerto Rico, Paraguay, Mexico, and more. Dress to Impress!
The 14th annual New York Pet Fashion Show Presented by TropiClean kicks off Westminster Weekend and Fashion Week. The 2017 theme is "Global Couture for Animal Rescue", and is being held on Feb 9th 2017 at the Hotel Pennsylvania in NYC. Celebrities and animal rescue stars will be walking the runway. The runway will feature Rachel Grant, a "Bond Girl" from Die Another Day, and Bravo's Tour Group, along with actress Naomie Olindo from Bravo's "Southern Charm, and Urban Animals Robbyne Kamil.
The New York Pet Fashion Show Presented by TropiClean also features the Gold Paw Awards ceremony, which celebrates amazing people, pets, and volunteers. The NY Pet Fashion Show is the largest pet fashion and animal rescue event in the United States, where celebrities, rescues, models and designers strut their stuff on the runway. http://www.NYPetFashionShow.com
Chairman, Gregg Oehler invites the media to cover the event of the season, which is the Super Bowl of fashion and rescue. The show averages 600-800 people in attendance, with over 100 media covering the event. This event will be filmed for TV, and features three runway shows directed by world renowned pet fashion designer and the shows Co-Chair and creative director Ada Nieves. The show will feature must see top pet fashion designers from across the World showcasing their couture collections!
New York City is the Capital of the world in media, fashion, finance, and is now the dog, cat, and animal rescue capital of the world. See the top pet designers from across the globe and their creations, with cats, dogs, chickens, rats, and a bearded lizard on the runway.
Media:
To be placed on the VIP Media Guest list or contact for interviews: Gregg(at)OehlerMedia(dot)com or call 203-595-5452
To Purchase Your NYPFS Ticket(s) click the link below
http://nypetfashionshow.com/index.php?id=buy-tickets
Tickets: To the public $50 in advance/$60 at the door
Address: 401 Seventh Ave, 33rd Street, New York, NY. 10001
Where: Hotel Pennsylvania 18th Fl. Penntop Ballroom
When: Thursday February 9th, 2017 from 6 p.m. - 11
Info: For more info call 646-202-3807
2017 New York Pet Fashion Presented by TropiClean
Event Sponsors- TropiClean, Merck Animal Health, Tomlyn, Hamptons Pet, and ,PetMediaPR
Gregg R. Oehler-Chairman, NY Pet Fashion Show, Oehler Media Inc
W: http://www.NYPetFashionShow.com
P: 203- 595- 5452 // C: 646-202-3807
An Oehler Media Production