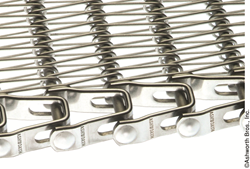 WINCHESTER, VA (PRWEB) January 25, 2017
Ashworth Bros., Inc., the industry pioneer and leading conveyor system manufacturer, introduces its new Omni-Grid® 360 Weld line of grid style spiral/turn-curve conveyor belts. The Omni-Grid® 360 Weld line of belts reduce cage bar wear, maintenance costs and downtime in your most demanding high-tension spiral/turn-curve applications while maintaining belt strength integrity and easy-to-clean attributes.
"The introduction of the Omni-Grid® 360 Weld line is the third generation of grid belts, once again proving Ashworth's leadership value and commitment to metal belting solutions that exceed today's processing demands," said Joe Lackner, Vice President for Ashworth Brothers, Inc. "Now everyone who has relied on the trusted performance of Ashworth's Omni-Grid® belts for more than 50 years can benefit from the engineered innovation of Omni-Grid® 360 Weld's superior strength and hygienic weld design."
The increased strength of the Omni-Grid® 360 Weld belts comes from the revolutionary 360° buttonless welds utilizing a patented "zero tension" design which allows a higher load bearing capacity. Unlike a traditional bridge weld, the 360° buttonless weld is free from surface imperfections and crevices which improve hygienic characteristics by eliminating the possibility of bacteria entrapments. The "zero tension" design permits the belt to run smoother with less wear on spiral system cage bar caps. Each link is formed with a proprietary coining process to prevent break-in wear, reducing belt elongation and increasing belt life. The 1-inch pitch and 1½-inch pitch Omni-Grid® 360 Weld belts are also offered with integral guard-edges with a smooth rounded finish for applications where product retention is a potential concern. Available in .75-inch, 1-inch, and 1.5-inch pitch, the Omni-Grid® 360 Weld belts are one of the strongest grid style belts on the market today.
Ashworth Bros., Inc., headquartered in Winchester, Virginia, is the only conveyor belt company that manufactures and services both metal and plastic belting for straight running, turn-curve, lo-tension and self-stacking spirals—offering customers the best solution for their specific requirements. With over 70 years of revolutionizing the future of conveyor belts, Ashworth continues to lead the market with the most conveyor belt patents in the food processing, can making, and material handling industries. Companies around the world depend on Ashworth's quality products, reliable customer service, innovative solutions and experienced Factory Service team to maximize throughput and minimize lifecycle costs.
For more information on Ashworth Bros., Inc. contact us at (800) 682-4594 or visit http://www.ashworth.com.
###