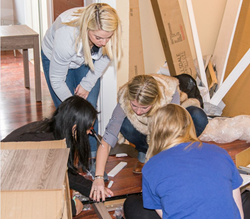 Giving back to the community continues to be a core part of our mission, and we're happy we could help Homestead Community get this project off the ground.
Kirkland, Wash (PRWEB) January 26, 2017
Online retailer ATGStores.com recently joined area nonprofit Homestead Community for the grand opening of its first youth home in Tacoma, Wash., after employee volunteers helped refurbish and fully furnish the house with furniture donated by the company.
ATGStores.com, a Pacific Northwest company with a long history of partnering with area nonprofits, donated more than $33,000 in home furnishings and décor to Homestead Community for use in the new home.
"This is a first for us in terms of getting involved with such a newly formed nonprofit, and we couldn't be more excited," said ATGStores.com President Michelle Newbery. "Giving back to the community continues to be a core part of our mission, and we're happy we could help Homestead Community get this project off the ground."
ATGStores.com volunteers spent more than a week cleaning and then painting the entire five-bedroom home, unpacking and assembling items, and installing furniture. For some, the project took on a great deal of personal meaning.
"I planned the interior design and selected products that would be long-lasting and heartwarming," said Rachel Daunais, ATGStores.com national public relations manager. "I want this to be a place that feels like home, and fosters a community that doesn't end when these residents eventually set out on their own."
The property, known as JJ House, is the nonprofit's first home for homeless and at-risk youth, and will house several area teens. The project is aimed at addressing the high rate of foster children who become homeless once they leave the foster care system.
"One-quarter of 'aged out' foster kids become homeless," said Homestead Community Board President Sue Braatan. "We bought the home as a way to announce we were bringing businesses, community leaders and everyday people together to address the crisis in foster care."
Homestead Community, which was founded in fall 2016, is a partnership between Tacoma's Next Movement advocacy group and Homestead at Alder Cove, a nonprofit Braatan founded in 2008 to help foster children. Together, they're finding innovative ways to serve Tacoma's youth.
"We believe the JJ House grand opening will help bring business leaders like our friends at ATGStores.com, politicians and caring citizens together around this cause," Braatan said. "The home is a model in more ways than one; it's a place where kids who have suffered the most will experience the care and concern of a loving community."
ATGStores.com, a Lowe's company since 2011, takes projects from concept to completion by offering every customer high-touch customer care, a curated selection of high-quality home furnishings, interior design services and professional installation for a seamless shopping experience. The company features more than one million products in a host of different categories, from lighting and furniture to hardware and decor. To learn more, visit ATGStores.com or email questions to press(at)atgstores.com.