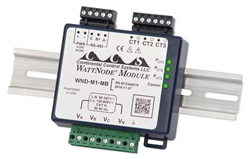 Boulder, Colorado (PRWEB) January 26, 2017
At the AHR 2017 Expo, Continental Control Systems will feature the WattNode® Meter Module, a small, low-cost power and energy metering solution. The standard version is packaged in a DIN rail mountable plastic enclosure with pluggable screw terminal blocks for quick wiring. It easily fits inside the wiring compartment of a small rooftop unit (RTU). Along with a 6-24V AC/DC power supply, the Module can also be installed in the field to replace traditional energy meters.
The WattNode Meter Module technology is designed for easy integration by OEMs into their equipment at the factory. The Module can be a UL Listed component when coupled with an approved power supply, but will otherwise be a UL recognized component, both options are pre-calibrated to ANSI C12.1. Available without an enclosure, this "meter on a board" concept is idea for high volume production because it can be easily customized with the specific features required by the OEM. The Module can measure single and three-phase loads up to 600 Vac and 6,000 amps. The WattNode Module is the ideal solution for energy monitoring in HVAC/R equipment including RTUs, PTACs, and CRAC units, VRF heat pumps, chillers, fans, compressors, and refrigeration racks.
The meter module provides all the multi-measurement functionality of traditional sub-meters including diagnostic LEDs, RS-485 communications, positive and negative kWh registers, kW demand, peak demand, volts, amps, VARs, and power factors for each individual phase as well as aggregated values. The board requires a 6 to 24 volt AC or DC power source and communicates via an RS-485 port using either Modbus or BACnet protocols. The line voltage inputs accommodate any single or three phase electric service from 120 to 600 volts, wye or delta. Current transformers are available in many different styles and ranges including board mounted solid-core and split-core (opening style) with wire leads. OEM options include, conformal coating, PCB connectors, screw terminals or pig tail wire leads, enclosures, and other mounting options as well as a variety of power supplies.
AHR 2017, Las Vegas, NV, Booth C867
About Continental Control Systems
http://www.ccontrolsys.com
Founded in 1995, Colorado-based Continental Control Systems specializes in electric power metering and monitoring equipment for the measurement of energy and power production and consumption. The company's solutions are designed to provide information on electrical systems in a variety of communication protocols including Modbus, BACnet, LonWorks, and kWh pulse. Applications for WattNode® meters include building automation, energy and load management, tenant sub-metering, performance verification/evaluation/diagnostics, and LEED certification.