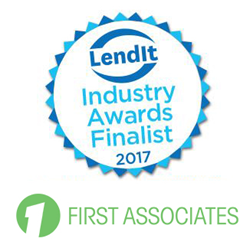 The nomination for this distinguished award is recognition of the contributions that First Associates has made to the online lending industry as a whole and of the value that we bring to our clients and partners
San Diego, CA (PRWEB) January 25, 2017
LendIt, the world's largest show in lending and fintech, announced that they have selected First Associates Loan Servicing as a finalist in the Top Service Provider category for the first annual LendIt Awards. First Associates is the only loan servicer to be named as a finalist of the LendIt Awards.
First Associates Loan Servicing was selected as a finalist out of hundreds of applicants worldwide and by more than 30 industry experts who judged finalists representing innovation, game-changing ideas, emerging talent and top performers. First Associates Loan Servicing will compete for top honors within its award category at The LendIt Awards Ceremony on March 7 at the LendIt conference in New York City.
First Associates Loan Servicing is the leading third-party service provider in the marketplace lending industry. The company actively contributes to the advancement of the online lending industry through speaking engagements, educational programs, industry resources, hosted networking opportunities, and more.
"Having been on the front lines of emerging and later stage FinTech companies for the past five years, we wanted to unveil our own best of the best industry accolades," said Jason Jones, Co-Founder, LendIt. "We were overwhelmed with the high number and high caliber of entrees. These finalists represent some of the most innovative companies that are radically improving financial services through technology."
"The nomination for this distinguished award is recognition of the contributions that First Associates has made to the online lending industry as a whole and of the value that we bring to our clients and partners" said David Johnson, CEO of First Associates Loan Servicing. "First Associates is thankful to LendIt and to the judges for this honor."
About First Associates Loan Servicing, LLC
Based in San Diego, First Associates Loan Servicing is the fastest growing third-party loan and lease servicer in the United States. The company offers a wide range of solutions for a variety of asset classes including marketplace lending, automotive, motorsports, business, retail purchase finance, solar, timeshare and student loans. First Associates has world class management and staff, full SSAE 16 II audit, best-in-class IT infrastructure, as well as strong institutional relationships with commercial and investment banks, finance companies, investment funds and credit unions. First Associates leads the consumer finance industry in providing customized technology and customer service solutions for its partners. The company celebrated its 30-Year Anniversary in 2016. For more information, please visit http://www.1stassociates.com.
About LendIt
LendIt is the world's largest event series dedicated to connecting the fintech and lending community. Our conferences bring together the leading lending platforms, investors, and service providers in our industry for unparalleled educational, networking, and business development opportunities. LendIt hosts three conferences annually: our flagship conference LendIt USA as well as LendIt Europe in London and LendIt China in Shanghai. LendIt USA 2017 will be held in New York from March 6 - 7. Learn more at http://www.lendit.com/.