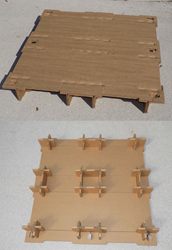 Orlando, FL (PRWEB) January 25, 2017
Joseph Danko, President of Lifdek, stated, "As Lifdek forges ahead in the corrugated pallet industry, we must ever be cognizant of our customer's requirements. Many of today's pallets are exposed to extremely harsh shipping requirements with numerous touches by some of the toughest handling machinery. Box style corrugated pallets with an outer sidewall are easily penetrated by forklift operators that are more concerned with efficiency than gentle handling or precision driving. Though the Lifdek pallets have plenty of stacking strength for the loads, the pallets suffered damage in certain applications, which had to be addressed. Lifdek has addressed these shortfalls by developing and launching its strongest corrugated skids (pallets without sidewalls or a bottom deck)."
After reviewing the cost savings case study for corrugated skids that IKEA released, Lifdek understood why IKEA had decided to use skids rather than box style paper pallets. They are easier to enter and exit with pallet jacks and forklifts, and they are tougher. IKEA did their homework, but the transition to corrugated skids didn't happen overnight; they had to work through many issues. IKEA certainly reaped a great return as the first mover and innovator in their industry with an estimated $1.0 Billion in savings system-wide in four years since switching to paper skids.
The new four rib, four way Lifdek skids have a tested compression strength exceeding 14,000 lbs, though Lifdek rates the skids conservatively at 3,300 lbs, knowing full well they may suffer abuse in transit. Unlike the other paper skids, Lifdek skids have an integrated folded support system rather than glued supports that tend to come off easily. Lifdek believes this design will enable them to penetrate many applications that were too tough for box style paper pallets. Lifdek accomplished this toughness by designing the skid in such a way to prevent any exposed single plies of corrugated board; every surface mates two plies of board for maximum strength and toughness. The new skids are available in any size, with the 40 x 48 inch version weighing in at just 7.7 lbs and when constructed with Greencoat® board from Interstate Container, they can even be used in extremely wet applications.
Lifdek skid assembly machines are currently being developed and are slated for release this summer. The machines will allow one person to assemble a skid in just 30 seconds, or half the cost of Lifdek's current pallet assembly machinery. The skid assembly machines will be provided to licensees for an initial deposit of $16,000 US, which will be refunded after 100,000 skids are assembled.
About Lifdek Corporation
Lifdek is a developer of corrugated paper pallet and skid technology that enables companies to reduce pallet related costs and liabilities while offering safe and sustainable shipping platforms. Lifdek pallets can be uniquely and completely assembled on-site prior to use. The patent pending pallets and skids are available in many countries.
For further information, visit http://www.lifdek.com