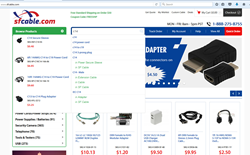 A selection of thousands of products may seem overwhelming, but customers will find SFCable.com's new "intelligent" search bar quite handy
Hayward, CA (PRWEB) January 30, 2017
SF Cable, Inc. has launched a new, user-friendly website: http://www.sfcable.com, introducing navigation tools that will make it easier for customers to browse through SF Cable's premier cables, power cords, adapters and much more. Serving school, government, corporate, and end user clients since 2002, SF Cable stocks over 8,000 products to make it a one-stop shop for all computer accessory and cable needs.
Key features include:
1. Intelligent search
A selection of thousands of products may seem overwhelming, but customers will find SFCable.com's new "intelligent" search bar quite handy. Customers can enter keywords on the search bar, and the website will generate the best possible items that match their query. They can also choose from an array of different cable lengths, as well as multiple colors with just one click.
2. Custom cable and quote requests
Customers who have a target price on certain items or need custom cables can now make requests online. SF Cable's seasoned staff and technical support will take a closer look on how they can best fit their customers' needs.
3. Online purchase made easy
SF Cable's new and improved look also makes it faster for customers to order online with the website's one-page checkout. Customers can still edit their cart before finalizing the order.
4. Quick order
SF Cable's loyal and regular customers can set up an online account so they can easily track orders, view recent account activity and update account information. They can also revisit recently viewed and/or related products.
5. Rewards points
SF Cable values their customers by giving rewards points! Customers can save themselves a few bucks by redeeming rewards points upon checkout. They can also sign up for SF Cable's newsletter and receive emails offering promotional codes on their next purchase.
SF Cable's new website stays true to the company's promise: "We look forward to serving you (in the most convenient way possible)."
About SF Cable:
With over 8,000 products in its inventory, SFCable.com is a one-stop shop for high-quality computer accessories and components, as well as premier networking cables. Founded in 2002, SF Cable offers lifetime technical support and excellent customer service to its valued customers. Visit http://www.sfcable.com for more information.