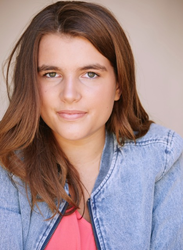 When I'm not acting I don't feel alive
Hollywood, CA (PRWEB) January 27, 2017
Since being awarded membership to the prestigious Screen Actors Guild in May 2016 Haile Brown has been on fire. Landing roles in 3 hit ABC shows, Speechless, The Mick and 4 appearances on Fresh Off The Boat, she has been taking Hollywood by storm. IMDB.
Her appearance in the music videos for Jacob Sartorius "Sweatshirt" and Walk The Moon's "Work This Body" increased her popularity dramatically and sealed her spot as a social media influencer.This landed her promotional deals with vegan and animal friendly cosmetic companies Gabriel and ZuZu Lux. The iconic J Gerard Couture noticed her brand appeal and gave her a promotional deal to boost their connection to the Millennial crowd. Social media fans have fallen in love with Haile and her following has skyrocketed.
Attending the 23rd Annual SAG Awards for the first time on Jan 29th is the highlight of this firecracker young actors year. Since this is considered a "Major Fashion Moment" her team is pulling out all the stops. With a one of a kind J Gerard Couture design topping off her look, accessories by Peace Gallery and shoes by Stuart Weitzman, she is sure to be the center of attention at this years awards show.
Instagram- hailetrinitybrown
Snapchat- haile_talented
Twitter- haile_talented