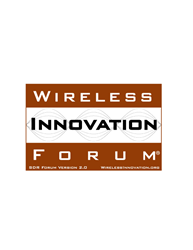 The diversity of these new members from across the wireless ecosystem shows the value of Forum membership in advancing technologies supporting the innovative utilization of spectrum.
Washington, DC (PRWEB) January 25, 2017
The Wireless Innovation Forum (WInnForum) a non-profit international industry association dedicated to driving the future of radio communications and systems worldwide, welcomed seven new organizations over the past six months. New members include four manufacturers, two service providers, and a certification authority.
"The diversity of these new members from across the wireless ecosystem shows the value of Forum membership in advancing technologies supporting the innovative utilization of spectrum," said Bruce Oberlies of Motorola Solutions and Chair of the Forum. "We look forward to working with each of these organizations in developing reports, recommendations and specifications that support their specific needs while advancing communications as a whole".
Altiostar (http://www.altiostar.com/) is the mobile broadband industry's first provider of Virtual RAN (vRAN) with Ethernet front haul, for software-intensive LTE eNodeB. Our unique solution is designed to improve quality of experience, enhance spectral efficiency and significantly reduce Total Cost of Ownership (TCO). We have a team of passionate, experienced professionals who understand the mobile network operators' requirements and vision.
Cambium Networks (http://www.cambiumnetworks.com/about/) is a leading global provider of wireless broadband solutions that connect the unconnected – People, Places and Things. Through its extensive portfolio of reliable, scalable and secure WiFi, fixed wireless broadband point-to-point (PTP) and point-to-multipoint (PMP) platforms; managed by cloud-based software, Cambium Networks makes it possible for service providers; enterprises; governmental and military agencies; oil, gas and utility companies; Internet service providers; and public safety networks to build powerful communications networks, reach users from 200 kilometers across mountain tops down to the last meter to their devices and intelligently manage their infrastructure through end-to-end network visibility and actionable analytics. Headquartered in Rolling Meadows, IL, outside Chicago, and with R&D centers in the U.S.; Ashburton, England.; and Bangalore, India; Cambium Networks sells through a range of trusted global distributors.
Founded in 2014, Cognitive Systems Corp. (https://cognitivesystems.com/about) began with the goal of changing the way wireless is used. Founders Oleksiy Kravets, Taj Manku, and Hugh Hind drew on their extensive expertise in silicon design, RF, and encryption to build a cognitive radio platform. Together, they built a vertically-integrated platform and product line-up that enables wireless signals to be used in new ways. Cognitive Systems Corp. is changing the way the world views wireless by using patented RF technology to develop solutions that enable wireless signals to be used and interpreted in new ways.
DigiCert (https://www.digicert.com/about-digicert.htm) is a U.S.-based Certificate Authority located in Lehi, Utah, and has provided SSL Certificates and SSL management tools for over a decade. While other CAs offer a variety of products unrelated to encryption, DigiCert is solely focused on SSL innovation, which is paired with unmatched customer service. DigiCert provides a full line of certificates compatible with many PKIs, tools, and platforms for optimal certificate management. We are industry leaders and work with manufacturers, government entities, educational facilities, and healthcare providers to provide secured communication.
"As we push technology ever forward, we inevitably risk introducing new dangers. In the world of connected devices, these potential dangers enter more pervasively than ever our physical day-to-day lives. While the improvements to society and our overall quality of life are absolutely worthwhile pursuits, the question of whether to secure these devices can no longer be a commercial one; it truly is an ethical one. From the factory floor, through shipping, purchasing, set up, daily use, all the way through to the recycling plant, the devices we are creating must be secured," said DigiCert Product Manager Clint Wilson. "As one key piece of device security, PKI provides an actively developed, supported, and scalable solution for authentication, encryption, and digital signing. DigiCert is excited to offer our support to WInnForum to help create community-defined standards that advance security best practices as the base assumption for this class of technology."
Insta Defsec Oy (http://www.insta.fi/defsec/en/) provides its Finnish and international customers with solutions and services for network-based command, control and communication systems, as well as for information networking and security. We also supply integration and maintenance services for critical systems in defence and security.
Ligado Networks (http://ligado.com/about-us/) is working to ready an advanced satellite-terrestrial network unlike any that currently exists in North America, providing pervasive, highly secure and ultra-reliable connectivity to critical industries anywhere, all the time. In this way, Ligado Networks will connect the Internet of Things and help the emerging 5G market enable innovations that are yet to be imagined. Our satellite network today operates throughout North America, offering ideal mission-critical connectivity where reliable service is crucial to safety. Pioneering encryption technology assures high levels of security, and our scalable, ground-based, beamforming technology provides greater flexibility in managing network capacity. In the future, our network will combine the benefits of satellite coverage with the capacity of a ground-based network. We will deliver even higher performance and introduce new capabilities for critical sectors such as transportation, public safety and energy, reducing repair costs and downtime while improving efficiency and worker safety. Utilizing one-of-a-kind technologies and capabilities and working with our leading technology partners, Ligado Networks is making stronger connections.
Telrad Networks (http://www.telrad.com) is a global provider of innovative LTE telecom solutions, boasting over 280 4G deployments in 100 countries. Telrad stands at the forefront of the Fixed Wireless boom using Advanced LTE technology in the sub-6 GHz market. Since 1951, the company has been a recognized pioneer in the telecom industry, facilitating the connectivity needs of millions of end-users through operators, ISPs and enterprises around the world.
Since 2014, Telrad is the US leading Fixed Broadband Wireless Access Solution provider for 3.65GHz through its end-to-end offering based on its flagship BreezeCOMPACT1000 Software Defined Radio solution. Over the last two years Telrad deployed across the US thousands of BreezeCOMPACT LTE base stations and over 200K CPEs in more than 200 WISPs. Telrad is positioned to lead the transition of existing 3.65Ghz spectrum regulation to the new Shared Spectrum model to enable massive Fixed Broadband service rollouts in Rural America. The BreezeCOMPACT1000 complies completely with the new FCC regulation supporting full 150MHz CBRS spectrum and new interface to the SAS allowing high valued broadband access services to new and current customers.
"We believe that participation in the WinnForum Shared Spectrum Committee will allow Telrad to provide a valuable CBRS solution to our customers as well as contribute to CBRS technology evolution for the Fixed BWA market scenarios," said Mark Altshuller, CTO of Telrad.
With international member organizations including radio manufacturers, their partners and suppliers, acquisition authorities, service providers, operators, standards bodies, researchers and regulatory agencies, the Wireless Innovation Forum provides a singular venue to advance wireless system and spectrum sharing technologies, to educate and influence decision makers at all levels of the wireless value chain, and to drive changes that will address emerging wireless communications requirements through the enhanced value, reduced total life cost of ownership and timely delivery of standardized families of products, technologies, and services. To learn more about our committees and projects visit http://www.wirelessinnovation.org/projects-committees.
Supported by platinum sponsors Google, Motorola Solutions, Leonardo and Thales, WInnForum has several working groups focusing on projects related to SCA and Spectrum Innovation. Visit http://www.WirelessInnovation.org to learn more. Individuals or organizations wishing to participate in WInnForum Working Groups should contact Lee Pucker at Lee(dot)Pucker(at)WirelessInnovation(dot)org.
About the Wireless Innovation Forum
Established in 1996, The Wireless Innovation Forum (SDR Forum Version 2.0) is a non-profit mutual benefit corporation dedicated to advocating for spectrum innovation, and advancing radio technologies that support essential or critical communications worldwide. Members bring a broad base of experience in Software Defined Radio (SDR), Cognitive Radio(CR) and Dynamic Spectrum Access (DSA) technologies in diverse markets and at all levels of the wireless value chain to address emerging wireless communications requirements. To learn more about The Wireless Innovation Forum, its meetings and membership benefits, visit http://www.WirelessInnovation.org.