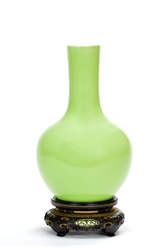 Beverly, Massachusetts (PRWEB) January 26, 2017
A collection of rare Asian ceramics and a Julio Le Parc mobile stole the show at the Kaminski Auctions January 15th sale. The Travis Brock Collection of Monochrome Ceramics brought in bidders from all over the world and the prices achieved reflected it. Originally acquired in Derbyshire, England in 1972, it was a collection of fine Asian porcelains that rarely comes to market in its' entirety. Fifteen of the twenty top prices achieved in the auction were porcelains from the Travis Brock Collection and all sold well above estimate.
Preview days for the sale were extremely well attended and a large audience showed up to bid in person. The auction specialists were busy with condition requests that poured in from around the globe. Kaminski Auction's Asian specialist Bob Yang stated "I was not surprised by the prices realized given the exceptional quality of the porcelains and the excellent provenance of the collection. "
With lively Internet bidding and numerous phone bidders, a very rare Chinese "Lime Green" vase measuring only eight and a quarter inches high was the top lot of the sale. On it's original 18th century wood stand, the vase was a globular form that elegantly rose to a slightly flared columnar neck. "The lustrous enamel of a bright lime-green color was what made the piece so rare and desirable" said Mr. Yang. Having the Yongzheng period(1723-1735) six-character mark within double circles in blue on the bottom, the vase was finally hammered down for $87,500 with buyer's premium.
As anticipated a very fine ten and a half inch tall Chinese Sang-De-Boeuf "Yuhuchun" vase with a pear-shaped form and covered in a deep red glaze with the Qianlong mark on the base sold for $ 18,750. Another fine Chinese "Langyao" vase with a tapering body rising to a round shoulder with a slightly flared rim and a lustrous red glaze at the mouth, pooling to a deeper tone at the foot and the Kangxi seal on the bottom sold for $11,875.
Apart from the vases in the collection a rare pair of early 16th century Ming Dynasty yellow saucer dishes with a yellow glaze of a rich egg-yolk hue with the Zhengde reign mark brought $8750.
A Chinese yellow-ground famille-rose bowl densely decorated with a continuous pattern of flowering peonies, chrysanthemums, lotus and hibiscus flowers all in brightly colored enamels on a rich yellow background with the Qianlong mark brought $7,800 and a Chinese yellow and green "Eight Princes" bowl with the Yongzheng mark sold for the same.
The Asian session also saw a Sino-Tibetan bronze gilt statue of Bodhisattva, the Green Tara with crossed legs and arms in Dharmachakra mudra with small gems mounted on the body net $8,750.
The second session of the auction featured important estate items from the Cheryl Burke Collection of Sarasota, Florida among other Massachusetts and California estates. Over nine phones lines were reserved for bidding on a mobile titled "Continental Lumiere No. 23 1968 " by the Argentinian artist Julio Le Parc. It quickly rose to $11,000 and sold to an Internet buyer for $13,750 with buyer's premium.
A 19th century carved marble head of a mythological figure that came in on a Tuesday free appraisal day was thought to represent Alexander with the horns of Ammon, after his conquest of Egypt in 332 B.C. The sculpture was originally from a Rome, Italy estate and achieved $7,200 well above the $2,500-$3,500 estimate.
An illuminated manuscript circa 1750 from the Deccan Ragamala series bearing a "Tooth Gallery, London" label sold for $9375. Bidders were also excited for a Harriet Whitney Frishmuth bronze sculpture on a white marble base titled "Crest of the Wave". Signed and dated "1925," edition 7/8 and marked "Gorham Co. Founders, the twenty one inch high sculpture was finally hammered down at $7,500.
Kaminski Auctions is pleased to announce it's first ever auction to take place in West Palm Beach Florida to coincide with the Palm Beach Jewelry, Art & Antique Show. Kaminski Auctions will hold an auction Sunday, February 19th at 11:00 am EST at the West Palm Beach Marriott, 1001 Okeechobee Boulevard, West Palm Beach, Florida across from the Palm Beach Convention Center. The auction features the collection of the Montelatici family of New York, Florence, Italy and Miami Beach, Florida among other estates.
Preview days are Friday, February 17th 2:00-6:00pm, Saturday, February 18th 10:00-6:00pm and day of sale beginning at 8:30 am. Preview is also open all day while auction is live. For more information go to http://www.kaminskiauctions.com and sign up to bid with KaminskiLIVE.