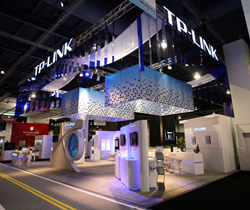 Nothing brings us more pleasure than being able to create the perfect exhibit booth for all our clients.
LAS VEGAS, NEVADA (PRWEB) January 26, 2017
The annual CES Consumer Electronics Show in Las Vegas is always about pulling out all the stops, but this year's show may have hit a new high watermark. The best trade show booths in the world were on display, including some jaw-dropping concepts that reinvent the booth as we know it.
One of the most intriguing was Audiopipe's parts shop-style booth. The manufacturer of high-end car audio equipment celebrated the launch of their new head units with an intimate, transportive booth that resembled an upmarket auto parts boutique. Designed and assembled by Xibit Solutions in Las Vegas, the Audiopipe booth's closed environment was a welcome respite from the chaos of the LVCC floor.
"This exhibit by Audiopipe was exciting to see," expressed Xibit Solutions founder, Richard Spinella. "We're so gratified to be able to provide their trade show booth eight years running. They trust us with their booth each and every year."
Even more immersive than the Audiopipe store was LG's OLED TV tunnel, which lined an arched roof with 216 4K TVs synchronized to display breathtaking scenes, like arctic tundra lit by the northern lights.
Polaroid's summer camp-style booth also drew crowds and reignited interest in the fun-focused do-it-yourself camera brand. A treehouse was installed and flanked by gallivanting chimpanzee figures, promoting Polaroid's line of user-friendly Cube action camera products.
Another eye-grabber was Naxa's booth, with samples and demos of all their latest products displayed in an eye-catching, retail-style format. Also designed and constructed by Xibit Solutions, this breezy booth showed off the brand's consumer electronics products, including tablets, action cameras, bluetooth speakers, portable TVs and more.
Xibit Solutions also was the brains and brawn behind the Amcrest booth, which let convention-goers with sore feet take a load off in its cafe-style seating while watching the latest generation in home security solutions. Monitors in the center of the booth displayed footage captured by Amcrest's many different wireless home camera products, letting everyone take a look at how their video quality and intuitive UI worked at the same time.
Veterans of CES and the trade show industry in general, Xibit Solutions aims to repackage familiar concepts alongside the latest best practices and graphical design vision. QFX, Cammy, Sabre RED, Dreamgear and more all had CES 2017 booths constructed by Xibit Solutions, which were all loved by clients and attendees alike.
Said Xibit Solutions employee Holly Good of the event's success: "Nothing brings us more pleasure than being able to create the perfect exhibit booth for all our clients."
Based right down the street from CES in Las Vegas, Xibit Solutions furnishes end-to-end trade show booth services, including graphical design, logistics, installation and dismantling. While providing their clients with eye-catching designs, they also aim to help exhibitors reduce costs with booth rental services and flexible capabilities. To date, the company has finished over 2,000 projects and helped exhibitors save thousands of dollars while performing over 1,400 hours of setup and takedown work.
Any companies interested in trade show booth rental, logistics, design, assembly or disassembly can visit the Xibit Solutions company website at http://www.xibitsolutions.com.