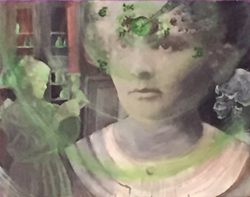 Amongst Sujata Tibrewala's works showcased at the exhibition will also be a new acrylic on canvas painting – 'Breaking the Atom, Marie Curie.
Chicago, Illinois (PRWEB) January 25, 2017
Feminist artist Sujata Tibrewala has for years been depicting women who have made a significant contribution to society and to the world, through her artworks. Her paintings are a wonderful link between the conscious and the subconscious mind and often talk about experiences and achievements that deserve attention as they open up a new vista of learning. The artist attempts to bring the laurels where they are due and also wants to accentuate the point that how women across ages have been instrumental in shaping the world as we know today. Ms Tibrewala variously uses her art as a theme to weave a story and highlight how there have inestimable contributions made by women, which have immense power to educate.
For a new multi arts exhibition that is all set to open in Chicago at the Life Force Arts Center, on January 27, 2017, the artist through her paintings has chosen to celebrate womanhood and its many contributions and how art can be extremely educative and healing.
The show titled, 'Art: The Language of Learning,' will be the first in the series of three shows to be held this year at the gallery, that will delve into the extraordinary power of art in helping to learn, heal and to understand community.
Amongst her works showcased at the three month long exhibition will also be a new acrylic on canvas painting which she has titled – 'Breaking the Atom, Marie Curie. The artist explains how the first ever woman Nobel laureate, Madam Curies' discovered radioactivity through the discovery of a new element. "radium". The phenomenon of radioactivity established that the radiation is coming through from an inherent decomposition of the atom itself, because the phenomenon of radiation remain unaffected by the element's temperature, pressure or the state of chemical composition. This proved that the radium atoms were spontaneously disintegrating to give out radiation and hence atoms are not indestructible. Though a known scientific fact today, the discovery wasn't paid the due attention at the time. She continued her research undeterred and also used it to cure cancer and hence helped save countless lives.
The discoveries that we take almost for granted in today's world, are the results of someone's relentless pursuit and often get less recognition than they deserve at the time of invention. And that is why, Ms Tibrewala finds it ironic that a woman who convinced the French government to set up France's first military radiology centers and helped save countless lives, herself succumbed to the disease of aplastic anemia, caused due to overexposure to radiation.
The artist through this work and others shows the importance of healing and education hopes that art through its silent but powerful means helps bring an informed change in the mindsets and attitudes. She wants her stories told through art to invoke a sense of resilience and gratitude towards the lives that others have lived and to help ascertain and educate our own vision in life.
About the exhibit:
What: A multi arts show titled Art: The Language of Learning
When: January 27 – May 25, 2017
Where: Life Force Arts Center, W Belmont, Chicago, IL 60657
Free admission to exhibit and opening and closing reception
About the artist:
Sujata Tibrewala, a self-taught artist come engineer remarkably embodies the indomitable spirit of human existence through her works. Her works revolve around the theme of eco-feminism. She has exhibited her artworks in some of the most reputed venues around the globe such as University of Illinois, Chicago, Raw San Jose, Parallax Art Fair London, the Regional Commission of Arts St Louis, Life Force Arts Chicago, Mindworks Gallery Chesterfield, St. Louis Artists' Guild, Chesterfield Arts, Art World Association, Women's Caucus for the Arts, MySLART and Lalit Kala Academy, Delhi.
She shifted to the USA in 2010 from India and practices her craft and conducts art workshops at Bay Area, CA, where she resides presently.