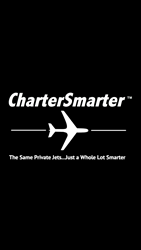 Airmont, NY (PRWEB) January 27, 2017
CharterSmarter's SmartShare is a new refined private charter service brokerage model eliminates all dark blind spots currently haunting fractional owners
CharterSmarter offers customers a stunning alternative to the darkly marketing concept known as Private Jet Fractional Ownership. CharterSmarter reveals the dark truth about the extremely expensive concept marketed as jet fractional ownership – that fractional "owners" are actually tenants in common of an airplane owned by the fractional company (very similar to a lease). While there is some technical ownership on paper in the form of a deed where the fractional company declares that some fraction (e.g. 1/16) of the plane is owned by the customer … that's where the rosy ownership story ends. The reason it is actually a "lease" and not really "ownership" is that the fractional program forces a buy back of the airplane after a fixed period of time (2 years, 3 years or 5 years). If you were truly an owner, a voting majority of owners would make the decision when/if the plane needed to be sold. If you were truly an owner, you might actually fly in the plane which you own (many fractional owners never actually step foot in the actual plane with the actual tail number they "own.") If you were truly an owner, you would never get "shut out" of your own plane like happens to most on busy holidays.
CharterSmarter'S FlyBright offers all of the same flight availability as are available to any fractional owner – without ANY up front commitment. "The archaic prehistoric offering known as private jet fractional ownership has been entirely disrupted," said Rick Klev, CEO of CharterSmarter. "There is not a single valid reason whatsoever for any customer to have a fractional ownership with any company – it isn't more convenient, it isn't more price effective, it doesn't offer better amenities, it doesn't offer better safety. Fractional ownership offers all benefits to the jet company, nothing to the customer! If you or your company has a current fractional ownership contract in place, just let that thing expire and move on!"
With all of this in mind, the term "Fractional Ownership" (as currently implemented by fractional ownership companies) with respect to private aviation was actually devised to fool the buyer into thinking that they are an owner. Fractional companies are actually selling "status illusion" for their customers to claim that they partially own a jet when in reality, they aren't actually owning a jet – they are really just fractional tenants of an aircraft lease and that doesn't sound very cool or market very well.
With the CharterSmarter FlyBright flight on demand private plane charter service, why would any individual or company commit to a fractional ownership headache when they can get all of the flights they want on the same planes that they want when they want it – without any long term heavy financial commitments, legal negotiations or contract overhead?
About CharterSmarter
Headquartered in Airmont, NY CharterSmarter is revolutionizing the Private Jet Charter Marketplace. CharterSmarter's team of professionals will streamline your trip every step of the way. CharterSmarter can get you on any type of plane in any worldwide location with any amenity with any notice. CharterSmarter is a 100% on demand one all-in transactional price private air charter service which never requires any advance contracts, deposits, club dues, negotiations, monthly or annual fees. CharterSmarter utilizes the most comprehensive database in the private jet industry which links our consumers to all the available One-way (flights positioning to pick up passengers) and Empty Legs (Flights returning to home base after dropping off passengers). This exclusive customer link allows them access to the most suitable options and point to point pricing available. CharterSmarter's local service airports include White Plains, NY (HPN) and Teterboro, NJ (TEB) however they have no regional or geographic booking limitations. CharterSmarter is a division of RaynAir, a boutique private jet charter company formed in 1996 and can be visited at http:/http://www.chartersmarterpro.com
All trademarks are property of their respective owners. CharterSmarter and RaynAir are trademarks of RaynAir.