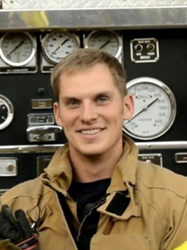 Fire Dept. Coffee believes in the bonds created between people when sharing the mutual responsibility of selfless service to our Nation and Community
(PRWEB) January 26, 2017
Fire Department Coffee was founded by firefighters on a mission to make the easiest drinking coffee for our Nation's hard working men and women.
The founders of the company are Luke Schneider and Mark Williams. Schneider, a Navy veteran turned firefighter paramedic, and Williams, a combat vet turned firefighter, are driven with a mission to serve, unite, and give back.
"Fire Dept. Coffee believes in the bonds created between people when sharing the mutual responsibility of selfless service to our Nation and Community," explains Williams. "The bond created by service members and firefighters is unique, strong and loyal. Our brand looks to foster similar relationships with customers, business partners and employees. FDC will always put our mission before lesser objectives like profits and numbers."
Each batch is roasted to order, ensuring every cup is as fresh and flavorful as possible for when it's needed most.
They offer three distinct roasts:
· Original -- This medium roast is the perfect way to start the day.
· Dark Roast -- Made with organic beans from fair-trade farms, its deep flavor hits the spot.
· Bourbon Infused – FDC's newest creation is smooth, aromatic and the perfect vehicle for one's favorite bourbon, whiskey, or cream based liquor after a long hard day on the job.
In order to do even more good in their communities, Fire Dept. Coffee donates a portion of each sale to military and fire service related charities.
"In the 25 years of combined military and public service, the team at Fire Dept. Coffee has always fostered the idea of charity. Whether big or small, it is the right thing to do." Said Schneider. Fire Dept. Coffee continually runs campaigns and events to raise money, awareness and improve relationships with charity organizations that promote veteran outreach, the fire service and the people they serve.
Fire Dept. Coffee has been tried, tested, and approved by thousands of our Nation's finest blue collared men and women. All military and first responders receive 15% off every order.
For samples or additional information, please visit http://www.firedeptcoffee.com or contact brooke(at)veteranpr(dot)com.