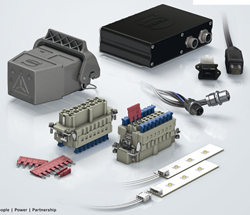 Wilmington, MA (PRWEB) January 25, 2017
Heilind Electronics, a leading distributor of electronic components, has added HARTING to its growing portfolio of connector manufacturers. With over 70 years of experience, HARTING is a global leader in the development and manufacture of industrial interconnect solutions.
Based in Germany, the HARTING Technology Group has production facilities in Europe, Asia, and the United States. Heilind will be conducting business with the U.S. facility in Elgin, Illinois -- one of three HARTING locations that manufactures HIS (HARTING Integrated Solutions) backplane products and custom cable assemblies.
As an authorized distributor of HARTING products, Heilind will offer the company's connector and cabling solutions, network components, and RFID systems. Key products include PushPull connectors, M8, M12, and 7/8" overmolded cordsets, and Han-Modular® rectangular connectors, which allow the combination of multiple media in a single connection point.
"We are pleased to be partnering with a global leader in the interconnect business," said Alan Clapp, Heilind's Vice President of Supplier Business. "HARTING's products will help fulfill our customers' requirements in high-demand markets and critical applications. In order to provide the quickest and broadest access to this new line, we will be stocking over 2,800 line items over the next few weeks."
HARTING products are used in a variety of industries, including mechanical and plant engineering, broadcast and entertainment, factory automation, power generation and distribution, industrial electronics, and telecommunications.
Contact our Heilind sales team to request a quote for HARTING products.
About Heilind Electronics
Founded in 1974, Heilind Electronics, Inc. (http://www.heilind.com/http://www.heilindasia.com) is one of the world's leading distributors of connectors, relays, sensors, switches, thermal management and circuit protection products, terminal blocks, wire and cable, wiring accessories, and insulation and identification products. Heilind has locations throughout the U.S., Canada, Mexico, Brazil, Germany, Singapore, Hong Kong, and China. Follow Heilind on Facebook at facebook.com/Heilind and on Twitter at twitter.com/Heilind.