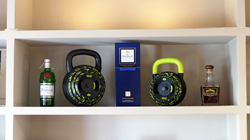 Practix is a combination of adjustable dumbbells and kettlebells designed as one compact product for convenient storage in any home.
Berlin, Germany (PRWEB) January 27, 2017
Practix, the ultimate fitness product for home workouts, has eclipsed its crowdfunding goal and raised more than $39,000 USD (and counting) with more than a month remaining in its Kickstarter campaign.
Providing workout enthusiasts with an entire rack of free weights in a single, compact and portable product, Practix has surpassed the 100-percent funding mark with the help of fitness-focused backers who no longer need to worry about storage space because a 12-by-12-inch area is all that's needed. Practix can be easily stored on a shelf, in a closet or in the corner of a room when not in use.
"We are absolutely thrilled with the response to Practix and how quickly our backers embraced our fitness innovation," said Co-creator Assaf van Trienen. "Using a 'click & turn' mechanism, Practix is a combination of adjustable dumbbells and kettlebells designed as one compact product for convenient storage in any home."
Practix features the M25 and M45. The M45 version consists of kettlebell weights of up to 45 pounds, and dumbbell weights up to 30 pounds. The slightly smaller M25 Practix holds kettlebell weights that can be configured up to 25 pounds, and dumbbell weights of up to 15 pounds.
Both the M25 and M45 are extremely easy to use with the 'click & turn' locking mechanism. Users simply click the button located on each plate and do half a turn clockwise to add plates, or make a counter-clockwise turn to remove them. The dumbbell handle is located inside the kettlebell base, so it can be quickly and easily switched between kettlebell and dumbbell training.
The Practix locking mechanism also has two safety features to prevent any unintentional movement of the plates during use.
For those working out at home, or even at the office, there is no need to worry about damaging floors. Even though Practix weights are pure steel, they are rubber coated for maximum protection. Practix is also waterproof, making it perfect for exercising outdoors. Practix is available in a variety of colors to accommodate any personal style or room décor.
For more information and to pre-order your Practix, visit the Practix Kickstarter Campaign Page until March 2, 2017.
About Practix
The Practix Workout System was developed by Sivan Entelis, Assaf van Trienen, Omri Zaied and Alon Shalvi, after they faced their own challenges when trying to work-out in their small apartments. Practix was formed to create a simple, compact weight rack for people who want to exercise in similar home environments. The creators are also developing additional Internet of Things (IoT) features for Practix in collaboration with Potsdam University and the Exist start-up program in Berlin, Germany. For more information, visit http://www.practix-workout.com.