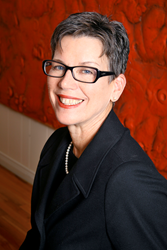 (PRWEB) January 25, 2017
Strategic Radiology has selected industry veteran Cheryl Proval to lead the company's marketing and communication efforts.
"During the past eight years, Strategic Radiology has engaged in the important work of quality benchmarking in radiology and laying the groundwork for a national infrastructure designed to help private radiology practices thrive," said Arl Van Moore, MD, CEO, Strategic Radiology. "As we get ready to move into the next phase, we need more robust communication with our stakeholders, and we've chosen Cheryl Proval to lead that charge."
Proval spent 18 years covering the field of radiology as a journalist, serving as founding editor of the Radiology Business Journal and as vice president of publishing for ImagingBiz, a radiology content company. Prior to joining ImagingBiz, she served as publisher and editor of Imaging Economics. Most recently, she founded a radiology practice communication company, Vox Percipio. She is a graduate of the University of Delaware.
"As the nation's largest consortium of private radiology practices, Strategic Radiology has a strong quality and value proposition for our patients, hospital partners, affiliated radiology practices, and insurers," said Randal Roat, chief operating officer of Strategic Radiology. "With her extensive expertise in print and digital communications and her deep knowledge of the field, Cheryl is just the person to help us communicate our story."
"I am thrilled to be working with Strategic Radiology and the many excellent private radiology practices that comprise it," Proval said. "Strategic Radiology has a great story to tell, one that is important to the future of the specialty."
About Strategic Radiology
SR consists of 25 radiology group practices across the United States representing more than 1,400 radiologists. The company's goal is to achieve higher quality patient care and more cost-efficient delivery of medical imaging through an integrated approach of shared data and best practices, interchanging clinical expertise, and consolidating certain practice expenses.
SR Core Members include:

Advanced Radiology Services; Grand Rapids, MI
Austin Radiological Association; Austin, TX
Central Illinois Radiological Associates; Peoria, IL
Charlotte Radiology; Charlotte, NC
Diversified Radiology; Denver, CO
Huron Valley Radiology; Ann Arbor, MI
Integra Imaging; Washington State (Inland Imaging and Seattle Radiologists)
Jefferson Radiology; Hartford, CT
Mountain Medical Physician Specialists; Salt Lake City, UT
Northwest Radiology; Indianapolis, IN
Quantum Radiology; Atlanta, GA
Radiant Imaging, Inc.; Pasadena, CA including The Hill Medical Corporation
and Arcadia Radiology Medical Group divisions

Radiology Associates of North Texas; Fort Worth, TX
Radiology Associates of South Florida; Miami, FL
Radiology Ltd.; Tucson, AZ
Southwest Diagnostic Imaging; Phoenix, AZ and affiliates EDVI Medical Imaging and Scottsdale Medical Imaging and Valley Radiologists
University Radiology; East Brunswick, NJ
SR Affiliate Members include:
Casper Medical Imaging and Outpatient Radiology; Casper, WY
Medical Center Radiology Group; Orlando, FL
Modesto Radiologic Medical Group (MRMG); Modesto, CA
Professional Radiology, Inc.; Cincinnati, OH
Radiologic Medical Services; Iowa City, IA
Radiology Associates PA; Little Rock, AR
Rome Radiology Group; Rome, GA
Southeast Radiology, Ltd.; Glen Mills, PA
More information can be found at http://www.strategicradiology.org.