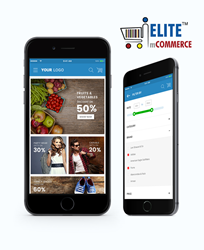 Make your mCommerce App easy!
Parlin, New Jersey (PRWEB) January 30, 2017
eGrove Systems announced their EMC (Elite mCommerce) 2.0 version mobile app on January 20, 2017. The new version of this mobile app allows online store owners to measure the behaviors of their mobile customers using a tracking code. These metrics will help to engage mobile customers based on their preferences. EMC 2.0 has improved user interface, which will increase the user experience of mobile customers.
eGrove has added these new features to EMC 2.0 to satisfy the needs of a majority of their customer requests. In addition to the new features, a new pricing model, "Pay as You Go," has been introduced to make the mobile app affordable for qualified e-commerce businesses. This new pricing model will assist online store owners in launching their mobile commerce application without upfront investment for mobile app development, which can help store owners increase the number of smartphone shoppers with less stress about the investment in launching the mobile app. There are no development costs involved while launching the app apart from the transaction costs.
Sathishkumar VG, the COO of eGrove Systems, said this new version of the mobile app will help merchants acquire higher returns with a smaller investment. EMC 2.0 will also increase the mobile shoppers' customer engagement with the use of analytics tracking. eGrove Systems supports the retailers in exploring the analytics tracking code together with the EMC app as a built-in feature since it has been partnered with a popular mobile analytics provider. Additionally, the COO assured that new features would help store owners give the best mobile shopping experience to their customers.
Xavier Raj A, the Product Manager of eGrove Systems, stated that this new improved user interface of EMC 2.0 helps e-commerce businesses to support Google's recent findings. "30% of all online shopping purchases now happen on mobile phones," he said. "The new version of EMC will enhance usability and increase conversions with mobile customers." EMC 2.0 mobile app would give better search and filter interface and simpler navigation to the customers. He also said this change is significant because mobile shoppers prefer smartphone apps that load fast and have a better user interface.
Online stores can blend their store products with popular multiple Open Source eCommerce software including Magento in EMC 2.0. In addition to the built-in features of earlier version 1.x that includes, Multiple Payment Gateways, Custom Theme options, Supporting Large Inventory, Real-time Syncing features, Google Analytics Integration, Reward Point System, and Push Notification following are the list of new features added to EMC 2.0:

Elite Theme: EMC 2.0 has new icons, material design guidelines, styles, and buttons that will make the customer to buy products through the app. The elite theme ensures the best search, simple navigation, and filter interfaces.
QR Code Scanner: This new feature helps merchants in establishing their brands with codes and offers through bar code.
Customer Engagement: EMC collects data from mobile analytics on user shopping behavior and progress through the app. This mobile analytics helps the store owners to decide the loyal customers and give more special offers to increase sales as well as customer retention.
Support for Multiple Business Models: The new version supports various eCommerce models, including Ticket Booking Apps, Grocery Apps, Fashion Store Apps, Boutique Store Apps, and much more.
Customer Product Comments and Live Chat add-on: This feature helps merchants in interacting with their clients at the time of the checkout process to generate cross-selling and up-selling.
Delivery Timeslot: Some business models may need ideal customer delivery time model, and this new feature will fulfill this need.
At present, eGrove is working on a new paradigm for EMC that integrates popular shopping carts including Shopify, OpenCart, etc., and on EMC Cloud SaaS model application. This model will help to reach out a large number of portal owners who use such platforms for their e-commerce needs.
To learn more about Elite mCommerce and its features, please visit https://www.elitemcommerce.com/.
About eGrove Systems
eGrove Systems is a leading IT solutions provider based in Parlin, New Jersey. Established in 2008, eGrove Systems specializes in creative and functionally rich enterprise software and best user-friendly solutions. Other services offered by eGrove are App SEO Services and Customer engagement services. The company achieved a significant milestone when it comes to the field of m-Commerce with its Elite mCommerce v2.0 app.
For more information, visit https://www.egrovesys.com/
1. Please check terms and conditions available on our website to verify if you are eligible for this model
2. SOURCE: https://www.thinkwithgoogle.com/articles/mobile-retail-apps-sites-introduction.html