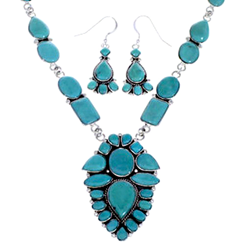 We need to make the cost of turquoise approachable to new consumers so the industry can thrive.
(PRWEB) February 10, 2017
Over the past few years, the rise in popularity for turquoise stones has been steady but the decrease in producing mines has been exponential. The demand for turquoise is due in part to the fashion industry. More and more designers are using the color for their latest masterpieces and jewelry companies are trying to keep up with the complementary blue stone.
The issue derives from the long process it takes to form natural turquoise. Turquoise takes millions of years to form naturally and is considered a non-renewable resource. As a result, mine after mine has been depleted from continued use.
An article from the Al Jazeera America covered the story of one Sante Fe silversmith, Rodey Guerro, who's been in the business for nearly 50 years doing what he loves.
The recent rise in turquoise prices and value has led to both agony and ecstasy as local artists like Guerro are forced to increase their prices. The article explained one experience of the artists talking to a prospective buyer, illustrating the fine inlay technique and abstract dragonfly symbolism that went into the piece. His asking price for his bracelet was 3500 dollars, which he wouldn't have dared ask just a few years earlier.
While artists might garner higher sales for their work, it also scares people away. Yet, the cost to make the piece continues to increase.
The spokesman for TurquoiseJewelry.com, Jack Burch, commented on the importance of keeping the market fair for both the consumer and the artists that make these pieces.
"I think it's important for companies to draw the line somewhere. That's why our store has kept prices the same for years. We need to make the cost of turquoise approachable to new consumers so the industry can thrive. At TurquoiseJewelry.com, we've made it our mission to stay true to both our customers and the artists we represent. That's why TurquoiseJewelry.com is currently keeping our prices the same. We've seen competitors with the similar quality turquoise raise their prices substantially but for now we are content to remain true to our customers."
Burch believes the increasing price of turquoise gives consumers a unique opportunity to invest in 2017. With other stores raising turquoise prices, Burch and his team at TurquoiseJewelry.com encourage people to take advantage of the store's core values. Their philosophy is to spread the elegant creations of the artisans featured on their site and grow their dedicated fanbase.
To learn more about TurquoiseJewelry.com, guests can visit their site to find deals on turquoise jewelry that promises to increase in value going into 2017.