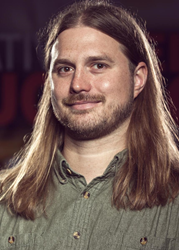 Having the opportunity to share my industry experience in the classroom with our talented students as part of the SAE Institute faculty has been a rewarding experience.
Nashville, TN (PRWEB) January 30, 2017
Jason Munn, Lead Audio Technology Instructor at the Nashville campus of SAE Institute, lends his audio mixing talent to a science fiction short film/music video, 'Light Up The Night.' The 16 minute short film and music video is from the Nashville-based rock opera band, The Protomen, whose music is based on the popular Nintendo video game 'Megaman.' The video will be released on Blu-Ray in the coming weeks.
The video was filmed in Brooklyn and Manhattan and directed by Matt Sundin and Caspar Newbolt. Jason worked as the Re-recording Engineer for Surround Sound, mixing the film in surround sound. "It was an absolute honor to be invited to work on this project as a Surround Sound Mixer. This was my first experience working on a film and it was challenging, yet rewarding. I had so much fun working with the incredible Protomen. I have never had so much fun working on any project," says Munn.
'Light Up the Night' premiered in September 2016 as an official selection at the Austin Music Video Festival. The short film was officially released on December 23, 2016, and it has since garnered great praise and press.
Jason has been an instructor at SAE Institute Nashville for over 4 years, where he teaches multiple Audio Technology courses, facilitates workshops and tutorials, and has authored three courses in Signal Flow Concepts, Live Sound, and Audio Post Production & Multimedia. "Having the opportunity to share my industry experience in the classroom with our talented students as part of the SAE Institute faculty has been a rewarding experience," says Jason.
After earning a Bachelor's of Arts in Music Theory from the College of William & Mary, Jason also earned a Diploma in Audio Technology from SAE Institute Nashville. "SAE Institute delivers both educational and practical preparation, opening the door to entry-level career opportunities for its graduates. A big advantage for our students is that SAE Institute offers a solid curriculum and industry experienced instructors."
Munn's industry experience as a musician and audio engineer spans over 20 years. With numerous credits from various local, regional and international artists, some highlights of his career include:

Re-recording Mixer (Surround Sound) - The Protomen - Light Up the Night (2016) - Short Film
Producer, Recording & Mixing Engineer - Dave Coleman - 10 Tracks (2014) - Unfinished LP album
Recording Co-Engineer - Striking Matches - Saving All My Tears (2013) – single
Recording Co-Engineer - Drew Scheuer - Drum Covers Sessions & Video Shoots (2012 & 2013)
Drummer, Co-writer - An Alien Fire/Synergy Anomaly - Cover Band/Original Music (2006 - 2007)
Lead Vocalist, Lead Guitarist, Writer - Velocity Groove - (2004) - LP album (tracking incomplete)
Drummer - UPX - Bite Me EP (2002) - EP album
Lead Guitarist, Co-Writer - Boot to the Head - Incriminating Evidence (2001) - EP album
In addition to his busy career as a musician, audio engineer, and Lead Audio Instructor at SAE Institute Nashville, Jason also manages to fit in mixing, mastering, and recording for several clients at his studio, Synergy Occurrence Studio, in Cottontown, TN. He is also an Associate Member of the Audio Engineering Society, and a Peer Reviewer for Focal Press' Professional Audio Engineering Books.
About SAE Institute
SAE Institute provides aspiring creative media professionals with a foundation of practical theory and valuable hands-on training in their chosen areas of concentration. Under the guidance of industry-experienced faculty, students gain the essential experience they need for entry-level jobs in the creative media industry. Students are supported in their job searches by SAE's international network of alumni, many of whom are leaders in the music, film, game arts, and live performance arenas. SAE Institute offers programs in Audio Technology in seven US campuses, along with a Music Business program at select locations, all fully accredited and focused on preparing students for employment upon graduation. Bachelor's Degree programs in Animation & Visual Effects, Digital Filmmaking, Game Art & Design, Interactive Audio, and Sound Arts are available at SAE Institute San Jose and SAE Expression College in the San Francisco Bay Area, formerly Ex'pression College. SAE Institute Group, Inc. is a part of Navitas LTD. Learn more at usa.sae.edu.
About Navitas
Navitas is an Australian global education leader, providing pre-university and university programs, English language courses, migrant education and settlement services, creative media education, student recruitment, professional development, and corporate training services to more than 80,000 students across a network of over 120 colleges and campuses in 31 countries. Learn more at Navitas.com.