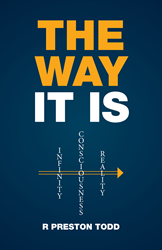 PHILADELPHIA (PRWEB) January 30, 2017
A Philadelphia-based author has released a book which combines a detailed description of his search for scientific consciousness, as well as the evolution of science and words in the stories of religion. In "The Way It Is," by R. Preston Todd, he covers this search in order for others to learn accordingly. He mixes in humor, puns, song lyrics and otherwise less than well known facts in his own inimitable way.
After the sudden passing of his father, eight-year-old Todd made the decision to walk out on his Christian religion. Once he reached adulthood, Todd picked up other philosophies such as New Thought, which claims to span both science and religion, especially Religious Science. This evolved into learning about the Law of Attraction, along with scientific quantum physics. Many disciplines involve channeled sources, and he combines salient points together. While studying pre-western religion, Todd was inspired to write his book.
"My initial thoughts were to see how consciousness evolved, which is similar to the evolution that happened in the physical world," said Todd. "My intention in this book is to translate a half lifetime of reading, learning and education into a more concise format."
In addition to learning more about this evolution, readers have access to a detailed glossary, which lays out contextual meanings for terms one may find foreign.
"The Way It Is" is to be followed shortly by a detailed 'how-to get from there to here,' which further explains: infinity, consciousness, as well as the reality and life which surrounds us. This new approach of getting there includes examples that should be simple for the novice to follow.
"The Way It Is"
By R. Preston Todd
ISBN: 978-1-5043-5480-6 (paperback); 978-1-50435-481-3 (electronic)
Available at the Balboa Press, Amazon and Barnes & Noble
About the author
R. Preston Todd is an emerging author living in the Philadelphia area whose book provides easy-to-understand lessons about consciousness. Todd is currently working on his next book "You CAN Get There from Here."
Review Copies & Interview Requests:
LAVIDGE – Phoenix
Chris Peña
480-998-2600 x 519
cpena(at)lavidge(dot)com
General Inquiries:
LAVIDGE – Phoenix
Kalin Batts
480-998-2600 x 524
kbatts(at)lavidge(dot)com