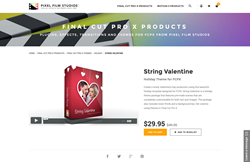 String Valentine is a lovely valentine's day production with pre-made scenes that are completely customizable for both text and images
Aliso Viejo, California (PRWEB) January 30, 2017
"String Valentine is a lovely valentine's day production with pre-made scenes that are completely customizable for both text and images," said Christina Austin - CEO of Pixel Film Studios.
Using String Valentine is as easy as selecting a preset from the Titles browser and placing it in the FCPX timeline. String Valentine includes pre-made layouts to choose from and the layouts are completely customizable. Manipulate the placement and animation of strings, colors of all the elements and more using the inspector window.
String Valentine contains two holiday style lower thirds for Final Cut Pro X. Both lower thirds include a bar that animates in from the side and produces a pair of hearts. Lower thirds are great for displaying info on any subject while it's still on-screen. Place lower thirds anywhere throughout the scene while footage is playing to use.
To use, drag and drop scenes from the Titles browser into the Final Cut Pro X timeline. Start with a base slide and stack new slides on top of the base slide to easily create a slideshow. Each new slide will animate the previous slide forward and out of view while the new slide zooms in.
String Valentine also includes a background key to use as a backdrop for text and additional media. Simple place the background key in the timeline and adjust parameters like colors and placement of string hearts. Then, apply text or media such as .pngs directly above the background key.
Established in 2006, Aliso Viejo, California-based Pixel Film Studios is an innovative developer of visual effects tools for the post-production and broadcast community. Their products are integrated with popular non-linear editing and compositing products from Apple FCPX. Apple, the Apple logo, Mac OS X, and Macintosh are registered trademarks of Apple Inc. in the U.S. and/or other countries. All other trademarks and trade names are the property of their respective owners.