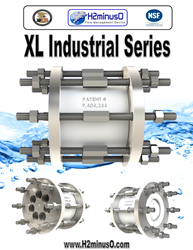 Others may come and go, but there is only one H2minusO
Chicago, Illinois (PRWEB) January 26, 2017
Since 2010 Green4All Energy Solutions Inc. has been leading the way in reducing water and sewer expenses with its H2minusO© FMD Patented Technology. After 6 years of working with water users of all size, we are pleased to announce the launch of the H2minusO© XL specifically designed for the needs of Industrial Water Users.
The XL Series brings stability and efficiency to the high volume of water being used by Industrial Water Users. With millions of gallons currently flowing through the H2minusO© XL combined with hundreds of hours in our R&D efforts and using our computer simulation software we have been able to address the most critical concerns of our clients volume and pressure needs.
The H2minusO© FMD is a customized solution that will help you control your water flow and bring more efficiency to your utility budget, product forecasting, and equipment stability.Every facility poses a new challenge and we have had great success over the years in providing a custom solution to our clients.This is a proven technology that has evolved into 3 product lines defined by user volume that are currently being used in many different industries.
For more information on our NEW H2minusO© XL FMD contact Zennergy our Global Master Distributor
Zennergy, LLC
3918 N. Highland Avenue
Tampa, FL 33603
(800) 577-5641