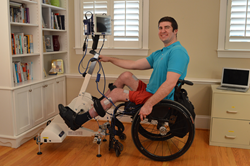 This level of at-home FES use completes the continuum of care and demonstrates that RT300 FES cycling is now the standard of care for people with a neurological impairment
Baltimore, MD (PRWEB) January 26, 2017
Restorative Therapies is the developer of FES medical devices for clinic and at-home activity-based restorative therapy. RT300 FES cycle is the result of Restorative Therapies' ongoing commitment to the research and development of FES powered physical and occupational therapy systems. This commitment is strengthened by the company's successful collaborations with clinical researchers and important feedback from at-home users.
FES is a physical and occupational therapy used to evoke functional movements and exercise not otherwise possible for individuals with a neurological impairment such as a spinal cord injury, stroke, multiple sclerosis, cerebral palsy, brain injury or transverse myelitis.
RT300 FES cycling delivers up to 12 channels of electrical stimulation to nerves which activate core, leg, and arm muscles. The patient's active muscle contractions produce a smooth cycling motion even if the patient is paralyzed and has no volitional movement. RT300 has been the device of choice in numerous research studies with important health and functional benefits demonstrated in a variety of conditions.
Since 2005 when Restorative Therapies received FDA 510(k) clearance for its first cycle, RT300 has continually evolved. RT300 now has six FDA 510(k) clearances and configurations that enable both arm and leg cycling for both adults and children as young as a few years old.
"RT300 was the first practical, portable home FES cycle for people with a neurological injury or paralysis. Completing 100,000 home therapy sessions in 2016 is the result of a huge team effort between Restorative Therapies and our at-home patients," says Andrew Barriskill, CEO of Restorative Therapies. "The Restorative Therapies' team has been very successful in helping patients fund home systems despite the very tough reimbursement environment and our patients have demonstrated their ongoing commitment to regular FES cycling at home."
"Very impressed with the ownership Restorative Therapies took of the insurance appeal process. Meredith our installer was wonderful during the install process and I appreciate her knowledge and patience." said Maryann Murphy, RT300 at home rider. "The quality of RT300 is excellent and the user manuals and website are very helpful. I had an excellent experience with Restorative Therapies and I appreciate the resources and customer support that I have access to as a customer."
"The continued growth of home FES cycling is enormously motivating to me and my team," said Wendy Warfield MSHA, OTR/L, Clinical Manager of Restorative Therapies. "This level of at-home FES use completes the continuum of care and demonstrates that RT300 FES cycling is now the standard of care for people with weak or paralyzed muscles due to a variety of conditions, diseases, and events," concludes Warfield.
About Restorative Therapies
Restorative Therapies mission is to help people with a neurological impairment or in critical care achieve their full recovery potential. Restorative Therapies combines activity-based physical therapy and Functional Electrical Stimulation as a rehabilitation therapy for those with impaired mobility associated with conditions including but not limited to stroke, multiple sclerosis, cerebral palsy, transverse myelitis, and spinal cord injury or for patients in critical care.
Restorative Therapies is a privately held company headquartered in Baltimore. To learn more about Restorative Therapies please visit us at http://www.restorative-therapies.com
Facebook: http://www.facebook.com/restorative.therapies.inc
Twitter: @rtifes
YouTube: http://www.youtube.com/user/restothera
Contact:
Judy Kline, Director of Sales and Marketing
Phone: 800 6099166 x301
E-mail: jkline(at)restorative-therapies.com