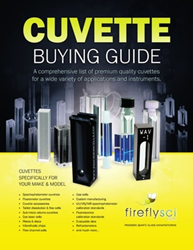 Staten Island, NY (PRWEB) January 26, 2017
Founded in 2014, FireflySci Inc. is a down to earth small business that continues to expand more and more each year. While many old time cuvette manufacturers rest on their laurels, the hotshot team of FireflySci employees continues to push the limits of cuvette innovation and manufacturing. FFS is making a serious impression in the spectroscopy industry with their small and powerful sales tactics.
Firefly had their humble beginnings in the heart of Flatbush Brooklyn. Starting with only a team of a few elite individuals who eat, breath, and sleep cuvettes, they started to bring new and innovative solutions to all labs they worked with. These new innovations included spectrophotometer calibration standards that never need re-calibration, cuvette starter kits, cuvette washing products, calibration plates for 96well plate readers and much more.
In late 2016, FFS was doing so well that they needed to upgrade their office space. The additional office space needed by FFS was not available in Brooklyn making the company seek out a new location in Staten Island NY. The Staten Island branch of FFS provided the company with ample space to support their growing sales force and their massive inventory of cuvettes.
In mid-January 2017, FFS is all settled in their new office and now it is only a matter of time before they beef up their efforts at bringing in more customers. Paul Woitovich, manager of Fireflysci, states that with the extra room available FFS will hire the extra help needed to fill the increasing amount of orders and allow time for each member of the FFS team to focus on their expertise. This new company structure will only benefit FFS's existing customer base by bringing them faster delivery times, faster replies to their e-mails and more time for the FFS think tank to be in session.
With the big move out of the way, FFS is looking to deliver more new products that will be a tremendous help to anyone in the spectroscopy industry. The company is not ready to reveal any new products at this time, but they did release hints about launching a line of solid-state calibration standards for stray light testing.
2017 is looking to be another amazing year for FireflySci. With the addition of many new national and international distributors, the sales team at FFS is predicting a huge increase in cuvette sales.
To contact FireflySci please visit http://www.fireflysci.com.