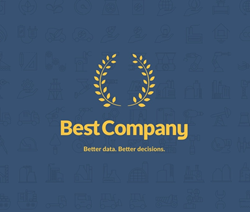 This rebranding coincides with a major push to make bestcompany.com a household name
PLEASANT GROVE, UTAH (PRWEB) January 26, 2017
SkyRocket Media, a Utah-based digital marketing company, is re-branding to Best Company. Headquartered in the heart of the "Silicon Slopes," Best Company has experienced double-digit growth each year since its inception in 2009, most recently recognized in the Inc 500 as the #28th fastest growing company in the United States. With this rebranding, Best Company is focusing exclusively on the development of its consumer review website, bestcompany.com.
"This rebranding coincides with a major push to make bestcompany.com a household name," said Jeff Grover, Best Company CEO. "It reflects our commitment to provide consumers an objective online resource that empowers them to determine which companies are worthy of their trust and, ultimately, their business."
According to a 2015 Mintel study, seven out of ten Americans seek out the opinions of others before making purchasing decisions. BestCompany.com provides these opinion seekers with accurate and unbiased reviews from experts and consumers covering a broad range of industries, including mortgages, debt management, and more than a hundred others.
Unlike other review websites, Best Company has made a name for itself by not allowing companies to "buy" their way into top positions on its site. On bestcompany.com, a company's ranking is calculated by an objective ranking system that gets smarter over time based on independent expert studies and thousands of real user reviews. With more than 30,000 consumer reviews on over 4,000 companies, bestcompany.com is quickly becoming the go-to source for consumers deciding which company to trust for a given product or service.