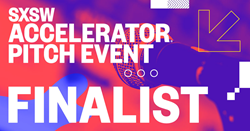 Being named a finalist among so many forward thinking companies from around the world is not only an honor, but also testament to the incredible work our team is producing," said Thomas.
Bryan, TX and Austin, TX (PRWEB) January 25, 2017
Triseum has been selected as a finalist in the Entertainment and Content Technologies category for the ninth annual SXSW Accelerator competition. The Accelerator is the marquee event of South by Southwest® (SXSW®) Conference and Festivals (March 10-19, 2017) Startup Village®, where leading startups from around the world showcase some of the most impressive new tech innovations to a panel of hand-picked judges and a live audience. Out of the more than 500 companies who applied to present at SXSW Accelerator, Triseum was selected out of 50 finalists in ten different categories.
The two-day event will be held the first weekend of SXSW Conference and Festivals, Saturday, March 11 through Sunday, March 12, on the third floor of the Downtown Austin Hilton. The pitch competition will then culminate with the SXSW Accelerator Awards Ceremony on Sunday evening, March 12, where winning startups from each category will be announced and honored. The Accelerator competition will feature finalists across the following ten categories: Augmented and Virtual Reality, Enterprise and Smart Data, Entertainment and Content, Health and Wearables, Innovative World, Payment and FinTech, Security and Privacy, Social and Culture, Sports, and Transportation.
"Being named a finalist among so many forward thinking companies from around the world is not only an honor, but also testament to the incredible work our team is producing - it's innovative, imaginative, and truly pushing the boundaries of what game-based learning can be. We are committed to transforming the teaching and learning experience, and I'm both proud and grateful to be part of it," said André Thomas, CEO of Triseum.
Triseum creates high-quality learning video games, empowering players to learn through fun, engaging and immersive experiences. Games are meticulously handcrafted, fully tested and evaluated to provide the ultimate educational experience. The company has produced ARTé: Mecenas, an art history game that transports students into the Renaissance era, and Variant: Limits, a calculus game where students apply theories and formulas to advance through a high-stakes 3D adventure.
"SXSW Accelerator has hosted some of the most innovative startups over the eight years we've held our competition. These companies have gone on to capture the attention of investors and leading technology companies worldwide. Seventy-one percent have received funding in excess of $3.1 billion, while 14 percent were acquired," said SXSW Accelerator Event Producer Chris Valentine. "Out of the hundreds of applicants, we have identified 50 finalists to present. Everyone with SXSW Accelerator is proud to support startups that are on the forefront of solving some of today's biggest challenges through technology."
For more information about SXSW Accelerator and to view the complete list of finalists, visit the following site: http://www.sxsw.com/interactive/awards/accelerator.
About Triseum
Triseum grew out of the LIVE Lab in the Department of Visualization at Texas A&M University, which is why education will always remain at the heart of this gaming company. Since then, Triseum has partnered with industry leading experts in gaming and instructional design dedicated to building the highest quality educational video games. Creating world class digital experiences that profoundly impact students, Triseum's bold curiosity means pushing the boundaries of what educational games are all about. For more information, please visit http://www.triseum.com.
About SXSW
SXSW dedicates itself to helping creative people achieve their goals. Founded in 1987 in Austin, Texas, SXSW is best known for its conference and festivals that celebrate the convergence of the interactive, film, and music industries. The event, an essential destination for global professionals, features sessions, showcases, screenings, exhibitions, and a variety of networking opportunities. SXSW proves that the most unexpected discoveries happen when diverse topics and people come together. SXSW 2017 will take place March 10-19, 2017.
# # #