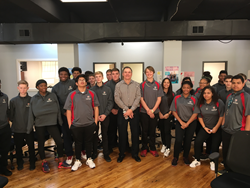 "I hope everyone will join me in helping to support Liguori Academy," said Stan Woodland, CEO, CMI/Compas.
King of Prussia, PA (PRWEB) January 26, 2017
Led by a challenge from CEO Stan Woodland, CMI/Compas employees joined to donate enough money to provide special educational tools to 50 inner-city Philadelphia students in need, at a cost of $600 per student. Woodland offered to personally match every dollar donated, and employees stepped up to reach that goal.
Liguori Academy is a new private, independent high school located in the Kensington community of Philadelphia. Using a comprehensive program of individualized instruction, academic remediation, behavioral support and a rigorous job-based career component model, Liguori serves the community's most disengaged, underperforming high school students and prepares them for graduation and future employment. Liguori Academy's proprietary software, Mission Control, is a high-performance data management system that enables Liguori Academy's trained and skilled teachers to provide individualized instruction that is informed by data collected in real time, thus ensuring that students are on track and meeting their goals. CMI/Compas' donation allows the school to provide Mission Control to an additional 50 students in the higher-risk category.
"This spoke to me for many reasons. I grew up in the same neighborhood as these kids and I know that any kid needs support and the right education to achieve success. In my own business I've seen the power that comes from harnessing data in the right way. In working with the leaders at Liguori Academy, I have been so impressed by everything they've done, and my colleagues were just as inspired. I hope everyone will join me in helping to support Liguori Academy," said Stan Woodland, CEO, CMI/Compas.
"With partners such as CMI/Compas we are able to see significant gains in our students' reading and math levels. With students achieving higher levels there is a change in our students' attitude toward their self-concept and a sense of competency. CMI/Compas' investment is changing the hearts and minds of our students," said Michael Marrone, President, Liguori Academy.
Donations can be made to Liguori Academy at this link: https://www.liguoriacademy.org/donate/
This year CMI/Compas was widely recognized for its giving efforts and corporate culture. Recognition included the SmartCEO Corporate Culture Award and profiles in the HM Exchange Humanitarian Issue, MedAdNews Top agencies issue and MM&M top agencies issue. The organization has also been recognized as a top workplace and healthiest workplace.
Those looking to join the CMI/Compas team can visit the company's career page for more information and a link to apply: http://www.cmimedia.com/career
About CMI/Compas
Well-known as a media planning and buying organization for healthcare clients, sister agencies CMI Media, a WPP company (NASDAQ: WPPGY, http://www.wpp.com), and Compas, Inc. together form the indispensable strategic marketing partner to the world's game-changers in health, offering guidance at every level of marketing. CMI/Compas focuses on core service offerings of Audience Strategy and Non-Personal Promotion Strategy, Planning, Buying, and Customer Insights and performance management/precision analytics. With continuous investment in the things that really matter, CMI and Compas have achieved unsurpassed tenure of healthcare marketing talent, clients and suppliers. CMI/Compas has offices in Philadelphia, PA; King of Prussia, PA; Pennsauken, NJ; Parsippany, NJ; Chapel Hill, NC; and New York, NY. The family of companies is actively recruiting for healthcare marketing jobs via http://www.cmimedia.com/career.
###