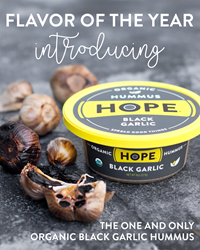 BOULDER, COLORADO (PRWEB) January 26, 2017
HOPE Foods, the nations leading all-organic hummus brand will be rolling out two new products for 2017: BLACK GARLIC and MANGO TOMATILLO hummus. HOPE is also expecting a large increase in the conventional distribution of its Guacamole product line, building on high growth in 2016.
The Black Garlic inside the hummus has been aged and cooked to achieve a flavor result similar to fermentation. It is rich and complex, and allows for the subtle flavor notes in garlic to emerge. HOPE is excited to bring this culinary delight into their bold and exciting family of hummus products.
Mango Tomatillo's perfect blend of peppery sweetness is exactly what HOPE was looking for as they expand their unique hummus offerings. It achieves the savory/sweet balance that brings life and zest to much of the world's cuisine, and is the perfect dip for any occasion.
"We are excited to bring these two flavors to the marketplace in 2017, and continue to showcase our unmatched ability to pioneer taste and produce fresh quality products," says HOPE president, Robbie Rech, "2016 was a milestone year for us and we can't wait to build on the foundation we have of exciting, new and unique flavors. We have a lot of momentum heading into 2017 and are looking forward to the Natural Products Expo West where we will be presenting our entire lineup of products."
In addition to these new flavors, HOPE will continue to increase the distribution of it's wildly popular GUACAMOLE line. HOPE Guacamole is available in two flavors: Green Chile and Spicy Green Chile. Crafted with Mexican-grown, handpicked and ripe avocado, fresh squeezed lime juice, tomato, garlic and cilantro, HOPE's chunky guacamole is home-style fresh and always ready to be the center of the party!
HOPE Foods is devoted to providing hummus lovers with the most flavorful, nutritious and high-quality spreads and dips you've ever tasted. Experience the power of honest ingredients and the heart of HOPE in every mouthful of Hope Foods. Learn more about Hope Foods at https://hopefoods.com.
About Hope Foods
Founded in 2011 in the Boulder, Colorado, Hope Foods found its name from the belief in the power of better food, and to provide customers with products they can trust. Started by a group of food-loving friends, the first batches of hummus were made right in their personal kitchens. Their first big hit was the Spicy Avocado hummus, which they began to sell to the local Whole Foods. Hope Foods is committed to prioritizing community, food, and friendship while also valuing their workforce from the inside.
High-Pressure Processing (HPP): Hope Foods uses a state of the art HPP technique that utilizes pressure instead of heat pasteurization, which can fill hummus with tons of unwanted preservatives. Learn more about the process HERE.