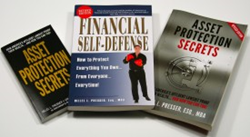 For every 60 minutes you spend making money, spend 60 seconds thinking about how to protect it!
Boca Raton, Florida (PRWEB) January 26, 2017
When choosing a business entity for asset protection it is important to determine which entities have charging order protection. Charging orders require a creditor to "stand" in the shoes of an entity owner as oppose to being able to foreclose on the business interest and/or force dissolution. Thus, with a charging order, the entity owner can withhold distributions and make the creditor wait indefinitely for a payout. In today's day and age, the limited liability company ("LLC") is one of the best entities for asset protection because of its built-in charging order protection. Hillel L. Presser, Esq., MBA of the Presser Law Firm, P.A. offers tips for navigating the charging order protection laws.
1. Charging Order Defined
In most states, the personal creditors of a business owner are limited to one of three remedies. First, a creditor can obtain a court to order that the business entity pay the creditor all the money due to the entity owner/debtor from the entity. This is more advantageous to the business owner who can withhold distributions from the creditor. Second, a creditor can foreclosure on the business interest. Third, a creditor can obtain a court order to dissolve the entity. The second and third options clearly favor creditors. It is important to ensure that your business entity choice provides that the creditor's sole remedy is a charging order and not foreclosure and/or dissolution.
2. Recognize why the Limited Liability Company is a Great Asset Protection Tool
The limited liability company is a great asset protection tool because, in most states, the charging order is a creditor's exclusive remedy for repayment of debt. This makes the LLC very debtor friendly in general. In these debtor friendly states, creditors who pursue and obtain charging orders end up with nothing because they can't order the company to make any distributions.
3. Distinguish which Limited Liability Company State Laws are Not Debtor Friendly
While the LLC is one the best asset protection tools, some states still allow creditors the remedies outside of the charging order. About two-thirds of U.S. states provide that a charging order is a creditor's sole remedy. The other one-third allow foreclosure and/or forced dissolution, or both. Among the least debtor friendly are: South Carolina, Oklahoma and Illinois. Review the following list to determine where you state is on the spectrum: http://www.assetprotectionattorneys.com/documents/Charging-Order-Protection.pdf.
4. Understand which States Require Multi-Member LLC Ownership for Charging Order Protection
Some states stipulate that single member limited liability companies are not protected under the charging order laws, even in states where the exclusive remedy is the charging order. Two of such states include: Florida and New Hampshire. In Florida and New Hampshire, the limited liability company must have more than one member or the creditor may foreclosure on the LLC interest. The reasoning behind the law is that someone other than the debtor must be harmed in order for the debtor to be take advantage of charging order protection. When using LLC's for asset protection in these states, it is important to make sure that the entity has more than one member, where possible. Further, the co-ownership interest can be as little as a few percent and could be held by an adult child or close family member.
The Presser Law Firm P.A., Asset Protection Attorneys, represents individuals and businesses in connection with the establishment of comprehensive Asset Protection plans that incorporate both domestic and international components.
Visit the Law Firm's Visit the Law Firm's website (http://www.AssetProtectionAttorneys.com) for access to educational material on asset protection, business law, estate planning, and probate including webinars, articles and detailed legal explanations.
Contact The Presser Law Firm, P.A., Asset Protection Attorneys for a Complimentary Preliminary Consultation with one of our attorneys or to receive complimentary copies of our latest best-selling books on Asset Protection.
"For every 60 minutes you spend making money, spend 60 seconds thinking about how to protect it!" states attorney Hillel L. Presser, Esq., MBA regarding the importance of protecting your assets proactively.