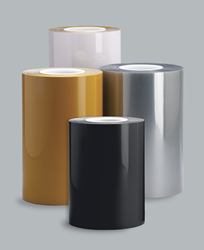 Polyonics has expanded its engineered tape line with new products, features and capabilities to track industry trends and satisfy customer requirements.
Westoreland, NH (PRWEB) February 03, 2017
Polyonics continues to introduce new types of high temperature engineered tapes while adding new capabilities to existing ones. This allows Polyonics to keep pace with industry trends and satisfy a growing list of OEM and converter customer requirements. Recent introductions include;
ESD Tapes
The latest release of the ANSI/ESD S20.20 standard provides guidance to help electronics manufacturers control static charges in their use of process required insulators such as tapes. Polyonics manufactures a wide variety of ESD-Safe tapes that now meet or exceed the S20.20, IEC 61340 and JEDEC JESD 625B requirements for low charging and static dissipative performances. The antistatic tapes also include low charging liners to further protect static sensitive devices during manufacturing and assembly.
Download ESD white paper here.
ESD Removable Masking Tapes
Polyonics manufactures a line of ESD-Safe removable masking tapes that also now meet the new S20.20 requirements for low charging both when their liners are initially removed and when the tapes are removed post process. The tapes are designed to remove from FR4 boards and PCB contact surfaces post solder and cleaning processes and include low charging liners.
Flame Retardant Tapes
Polyonics flame retardant tapes use new formulations of chemical and physical mechanisms that help control heat, oxygen and flammable gases to prevent the propagation of fire. The polyimide and aluminum tapes do not include halogen and are tested to the UL94 V0, FAR 25.853 and BSS 7238/7239 flammability, smoke and toxicity standards.
Bonding Tapes
Polyonics now offers several bonding tapes that provide thin conformal bond lines and aggressive PSAs to help eliminate mechanical fasteners and lower manufacturing costs. An S20.20 compliant, low charging bonding tape with antistatic liners is also available for attaching static sensitive components together.
Aluminum Foil Tapes
For very high heat applications and/or when a vapor barrier is required, Polyonics offers a variety of aluminum tapes. These tapes include acrylic or silicone PSAs and liners for ease of handling and die cutting. Flame retardant aluminum tapes are also available.
High Opacity
Polyonics manufactures a variety of semi-gloss and matte black high opacity tapes for applications that require both temperature and/or electrical protection as well as light management within the device, e.g. controlling reflection, refraction, scatter, etc. The black tapes can also be used in assemblies that incorporate a black design aesthetic. The matte black tape is ESD-Safe with both low charging and static dissipation.