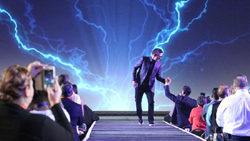 The events are life changing. Everything taught applies to all aspects of your life, not just real estate.
Irvine, CA (PRWEB) February 23, 2017
Tom Ferry is pleased to announce their highly anticipated events schedule! These events are designed to help real estate agents achieve both personal and professional growth and are located throughout North America.
Tom Ferry is an international events and coaching company that has renewed their commitment to creating a better real estate experience for all. Tom Ferry is doing this by giving agents the skill sets, strategies, network, and motivation through world class events specifically tailored for real estate professionals.
"I had a bad real estate experience many, many years ago. I decided then and there that a better experience was needed for everyone" said CEO Tom Ferry. "This starts by giving agents the tools and skills they need to better serve their customers and communities, and in turn, people around the world have a better experience buying and selling homes."
Tom Ferry's events are designed to equip and train agents around the world. Here are some of the 2017 events coming to the U.S. and Canada:
Success Summit: Tom Ferry's flagship event is back for the 14th year. The 2017 Summit will be held at the MGM Grand in Las Vegas from August 8-11, with over 6,000 top producing agents in attendance from around the globe. Past Summits have featured keynote speeches from industry leaders such as Stefan Swanepoel, Steve Harney, and many of the industry's top agents.
By Design: Coming to Brooklyn, New York on November 6-7, By Design is a specialized event to help agents create a business and life By Design. At this event, agents are taught how to create marketing and business plans to increase success in their business.
Leadership Summit: The premiere event for leaders in real estate, the Leadership Summit focuses on teaching how to create a high-performance sales culture, best practices for talent acquisition, and boosting agent production. The west coast Leadership Summit will be on May 9th at the Hilton Costa Mesa in Southern California. The east coast Leadership Summit will take place at the New World Stages in New York, New York on June 21st.
Sales Edge: An intense 3-day sales training workshop, Sales Edge is designed to build persuasion and objection handling skills. Sales Edge is held at multiple locations across the U.S. and Canada.
Tom Ferry events have a motivational and highly engaging atmosphere for learning and growth. Attendees leave feeling recharged, equipped with new skills, and ready to serve their customers in a new way.
"The events are life changing" said Jennifer Flipse, a Coldwell Banker agent from Parker, CO. "Everything taught applies to all aspects of your life, not just real estate."
In addition to the events above, Tom Ferry offers numerous regional events throughout the country that are designed to help agents build confidence, improve their listing presentations, and hone their sales skills. Click here to learn more about Tom Ferry events.
About Tom Ferry
Tom Ferry is an international coaching company led by one of the most sought after professional development experts in the real estate industry. Tom Ferry is the bestselling author of Life! By Design and shares his knowledge through live events, results-focused coaching programs, and a popular YouTube channel and show, the #TomFerryShow, with over 4.5 million views. Tom Ferry has influenced hundreds of thousands of real estate professionals to create inner and outer wealth by teaching multiple lead generation and conversion techniques focused on innovation and marketing.
For images and more information on Tom Ferry, contact Marni Hale at marni(at)tomferry(dot)com or visit TomFerry.com