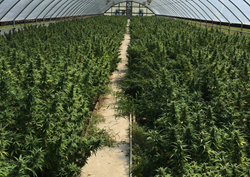 "It's a dream come true to now be able to source domestically, support American farmers, and be a part of the hemp revival in Kentucky."
Denver, Colorado (PRWEB) February 07, 2017
Bluebird Botanicals announced recently via its website that it is now utilizing hemp extracts sourced from Kentucky. In early Spring of 2016, the company reached a buying agreement with a farm outside of Louisville that dedicated 30 acres of their cannabinoid-rich hemp to Bluebird's operation. Bluebird Botanicals plans to scale up production volume in Kentucky in the coming years.
Kentucky runs a fully compliant hemp pilot program in accordance with Section 7606 of the Agricultural Act of 2014, more commonly known as the 2014 Farm Bill signed by President Obama in February 2014. Bluebird Botanicals is a legally approved buyer of the Kentucky-grown hemp.
The recent announcement further evidences Bluebird Botanicals' continuing efforts to champion and support increased hemp legalization in the United States. Founder and CEO, Brandon Beatty, says, "It's a dream come true to now be able to source domestically, support American farmers, and be a part of the hemp revival in Kentucky." The fertile soil of Kentucky combined with the affordability of land, higher yields, and a longer growing season make the state a cost-effective and efficient option for cultivating industrial hemp.
In the United States, the legal definition of industrial hemp is "the plant Cannabis sativa L. and any part of such plant, whether growing or not, with a delta-9 tetrahydrocannabinol concentration of not more than 0.3 percent on a dry weight basis." This means it's now legal to grow hemp in the United States and that processors can legally use the trichome rich flowers to create hemp products, if done pursuant to the 2014 Farm Bill.
ABOUT THE COMPANY
Bluebird Botanicals is a privately owned, Colorado based hemp company that was founded by Brandon J. Beatty (CEO) in 2012, and began distributing their flagship hemp CBD extracts on a worldwide scale in 2013. Bluebird also produces and sells CBD vaporizer products, hemp topical creams, hemp clothing & accessories, and has plans to release new and unique product lines throughout 2017. For more, visit https://www.bluebird-botanicals.com/.