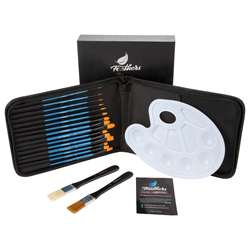 Get in touch with your inner artist
San Francisco, California (PRWEB) January 31, 2017
After what seems like forever, Lush Items is delighted that the Feathers Paint Brush Set is available once again for sale on Amazon in the US. In the run up to Christmas, Lush Items unexpectedly ran out of stock for their Feathers Paint Brush Set, very soon after launching in the month of November. Higher than anticipated holiday sales for Feathers meant running out of stock well before Christmas. Julie Stevens, Lush Items Sales Director, said, "It was really frustrating not to have enough inventory to meet demand at this busiest time of the year. At least we will have a better idea of how much inventory to order for the next holiday season.".
It is often difficult to know how much inventory to invest in at first when testing out a new product. This is usually a case of weighing up the risk of running out too quickly for a product which turns out to be popular versus having too much for an unpopular product. Of the two issues, Lush Items took the view that the former is the more preferable problem of the two, as it indicates the product has potential to be a great success without having tied up vast sums in inventory. When inventory planning, another factor to consider is that the post-Christmas sales momentum is generally a lot more slow and steady than the busiest 6 weeks prior to Christmas.
One of the main problems with running out of inventory is that a product's rank on Amazon declines significantly. Amazon deduces a product's rank based on several criteria, one of which is sales volume. So, when a product runs out of stock and remains that way for more than a couple of days, the sales momentum is lost and the product rankings fall dramatically, making it difficult to regain the same position at its height, especially in a competitive category like Arts & Crafts.
With the new Feathers inventory now ready to sell, it is important for the Lush Items sales team to ramp up their advertising to boost sales, whilst keeping an eye on the stock levels to avoid running out too quickly for a second time. The ideal scenario is a gradual but steady increase in sales volume, allowing sufficient time to reorder new inventory, whilst keeping the momentum and sales rank on a gradual upward trend. Julie Stevens, Sales Director of Lush Items, commented, "Now that Feathers have arrived at the Amazon warehouse, we need to work how much marketing is required to get sales going again on Amazon at this time of year.".
Feathers Artist Paint Brushes consist of a set of 17 short handle, birchwood paintbrushes, with a palette and zip storage case; all of which comes in an elegant gift box. They are most popular with hobby artists who like to paint with watercolors or acrylics. Currently available on amazon.com at a re-launch price of $22.99, the set comes with a full refund guarantee.