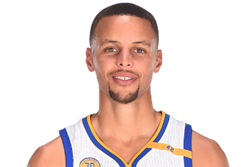 Lynchburg, Va. (PRWEB) January 25, 2017
Two-time National Basketball League (NBA) Most Valuable Player (MVP) Steph Curry will be a featured speaker at Liberty University Convocation on March 1, as part of a Kick'n It for Africa Humanitarian Partnership.
Curry is considered by many basketball analysts to be the best shooter in the history of the game — he holds the record for most three-pointers made in a single NBA game (13 on Nov. 7, 2016) and broke the NBA record for most three-pointers made in a regular season three times (272 in 2012-13, 286 in 2014-15, 402 in 2015-16). He won an NBA championship with the Golden State Warriors in 2015. Curry was awarded the NBA MVP in back-to-back seasons, last year becoming the first player in league history to be selected for the honor by a unanimous vote.
Kick'n It is a lifestyle brand founded by Liberty alumnus Chris "COSeezy" Strachan that utilizes pop culture and sneaker fashion to empower community service efforts. Strachan's relationship with Curry — who is on Kick'n It's advisory board — was instrumental in bringing the NBA star to Liberty. On March 1, Kick'n It will team up with another initiative, started by Liberty graduate student Emmanuel Ntibonera, a native of the Democratic Republic of the Congo (DRC). Ntibonera collects tennis shoes to send to less fortunate individuals in his home country. Liberty is asking students to bring a pair of shoes to donate to the cause on March 1. Additionally, Curry's sponsor, Under Armour, will donate 1,000 pairs of children's shoes. Liberty will deliver the shoes as part of a service trip to the DRC this summer.
While Curry has not spoken at Convocation before, his wife, Food Network celebrity chef Ayesha Curry, was a featured guest last November. Curry's younger brother, Seth Curry — currently of the NBA's Dallas Mavericks — played his first collegiate season at Liberty, where he led all freshmen nationally in points per game and broke the Big South Conference single-season scoring record for a freshman.
Convocation, held three times a week, is the world's largest weekly gathering of Christian students. It provides a unique platform for Liberty students to hear from an array of educational and inspirational speakers.
Visit Liberty.edu/Convo for the full Convocation schedule.
Convocation begins at 10:30 a.m. and can be viewed live at Liberty.edu/Watch.
About Liberty University
Liberty University, founded in 1971, is the largest private, nonprofit university in the nation, the largest university in Virginia, and the largest Christian university in the world. Located near the Blue Ridge Mountains on more than 7,000 acres in Lynchburg, Va., Liberty offers more than 500 unique programs of study from the associate to the doctoral level. More than 250 programs are offered online. Liberty's mission is to train Champions for Christ with the values, knowledge, and skills essential for impacting tomorrow's world.