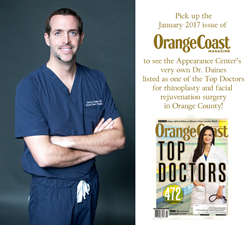 I am honored to receive this prestigious distinction from the OCMA. More than anything, the award reflects the commitment and dedication of my staff who work tirelessly to help me give outstanding care to my patients.
Newport Beach, CA (PRWEB) January 31, 2017
This year's physicians of excellence were judged by the Orange County Medical Association to be among the most accomplished and caring. Dr. Steven M. Daines has been chosen for excellence in rhinoplasty and facial rejuvenation surgery.
Steven M. Daines, M.D. is an accomplished Double Board Certified facial plastic surgeon in Newport Beach who specializes in rhinoplasty and advanced facial rejuvenation including face and neck lift surgery. Board Certified in Facial Plastic and Reconstructive Surgery as well as Head and Neck Surgery, Dr. Daines devotes his expertise to achieving elegant, natural results for his patients in a warm, welcoming environment. An expert in an impressive array of surgical and non-surgical rejuvenation procedures, he has made Daines Plastic Surgery the foremost destination in Orange County for patients seeking personalized facial aesthetic enhancement.
Dr. Daines is one of only a handful of elite surgeons in Orange County who dedicate their practice exclusively to cosmetic and reconstructive surgery of the face, neck, and nose. He is committed to using innovative, safe, and reliable techniques that deliver real results. Call 949-397-6499 today to schedule a complimentary consultation and experience the difference for yourself. You can also contact Dr. Daines through his website http://dainesplasticsurgery.com/