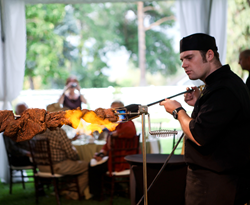 I hope that these videos are exciting! Really bring you to the edge of a new experience.
Pleasant Grove, Utah (PRWEB) January 26, 2017
Culinary Crafts, 13-time winner of Utah's Best of State Caterer, has made a name for themselves using ingenuity, passion, and an unmatched level of culinary courage. They continue to break barriers by introducing something the catering world has never seen from one of their own: a YouTube channel.
But this isn't just any YouTube channel, for anything ordinary would not be in true Culinary Crafts style. Introducing, "The Craft(s)," a channel containing high-concept videos that will intrigue anyone who has cooked or eaten anything, ever.
But, these are not cooking shows. Rather, the videos display dramatic glimpses into the excitement, inventiveness, and even dangers of cooking. Filmed in their catering kitchen, parking lots, studios, and basically anywhere their food takes them, each video takes you, the viewer, on a culinary fantasy/adventure into subjects such as fire, smoke, steam and fashion. These videos are an engaging romp into the extraordinary and endlessly creative world of cooking.
"I've had people say to me, 'Why are you making these videos, Mary?'" said Mary Crafts-Homer, CEO and president of Culinary Crafts. "It's kind of like something inside of me that I want to share with the world. I hope that these videos are exciting! Really bring you to the edge of a new experience. For me, it brings me home knowing that all these years I've been doing the right thing."
Narrated by Mary and her sons Ryan and Kaleb, chief catering officer and chief sales officer respectively, this intriguing mini series will tantalize your taste buds and leave you begging for a bite.
The premiere video "Fire" is launching Thursday, January 26, 2017. View it here: https://youtu.be/6akVAXPnqpw and experience the tantalizing power of fire, through the eyes of an award-winning catering family.
For more information on Culinary Crafts, visit http://www.culinarycrafts.com.