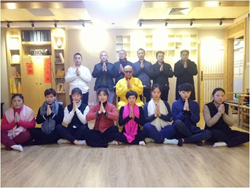 It is time to let go of over thinking, and problem finding games. To free oneself from boundaries and self caging is to grow one's strength in character, trustworthiness, and responsibilities.
New Orleans (PRWEB) January 29, 2017
Shaolin Institute hosts its annual Chinese New Year celebration. The event includes a speech on high conscious health and happiness by Grand Master DeRu, a worldwide Zen traveler, student and mentor who will also conduct a short Zen workshop/seminar. The celebration kicks off at 11:00 a.m. on the Shaolin Institute's New Orleans campus.
DeRu's seminar is part of a global series he began in Shanghai, China on Dec. 24, 2016 with "Living Zen Mind and High Conscious Health." DeRu continued the Living Zen talks with quantum health teachings through many cities in Anhui and all the way to Beijing.
He finished his first Asian Zen teaching series Jan 12 and then returned to the U. S. where he taught another series of Living Zen with the theme "Health Living, Natural Healing" on January 14th and 15th in Washington D.C.
The New Year of Rooster Living Zen teaching series on the theme of "5H" starts in Atlanta on Jan. 28th, with seminars in New Orleans on Feb. 4th, and in Mobile on Feb. 8th. DeRu says the focus of the teaching series is: "Let it go so one can rise up with high consciousness."
"It is time to let go of over-thinking and problem-finding games," says DeRu. "To free ourselves from boundaries and self-caging is to grow our strength in character, trustworthiness, and responsibilities. That is to be truly free."
DeRu continues, "Happiness with Health is almost all the peoples wish to possess. High conscious intelligence, in Healing to Health with Harmony and Happiness penetrates and permeates into all the communities of Zen world, further prevailing into all conscious beings of the universe with high grit in discipline and indomitable spirit."
"We are all part of, and [a] microcosm of the universe," says DeRu. "Our body particles are universal participles and our atoms are part of the universe atoms. Our conscious Qi waves are closely connected with the Qi waves of the universe consciousness which set the parameter to guide each step of our path if we wish to get it right in happiness and health."
For DeRu, these Zen principles open the path to peace for all people. He believes war and fierce competition are for the "ignorant, self-serving few who are leading to self-destruction. It is the synergy in peace with harmony in cooperation that leads all beings to greater development in advancement of conscious beings and the continued expansion of the universe."
Grand Master Shi DeRu a 31 generation Shaolin Chan (Zen) Master has been teaching Zen mind and Zen meditation for over three decades worldwide, especially in China and the US. Master DeRu has been hosting his Annual Qi Retreat in the US for the last two decades with various topics on health and happy living with the Zen Mind.
This year's seminar/workshop is March 3rd - March 6th at Pensacola Beach, Florida. For more information http://www.shaolin-world.net or 770-286-9808.