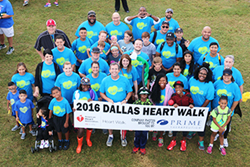 Richardson, Texas (PRWEB) January 30, 2017
Vista College was one of the top 20 fundraising companies for the 2016 Dallas Heart Walk – American Heart Association's annual premiere event for raising funds to save lives from this country's No. 1 and No. 5 killers: heart disease and stroke. In 2016, over 400 Vista College staff and families participated, raising $62,200 – a 65 percent increase in the amount the company raised in 2015. Vista raised $25,200 more in 2016 and $16,600 more than the college's overall goal.
"It is an honor to be ranked as #19 of all Dallas company participants with our fundraising totals," said Jim Tolbert, CEO, Vista College. "This is incredible given our size compared to all corporations in Dallas. This year, our company has moved up six spots from our ranking last year by increasing our participation numbers and raising a significant amount of additional funds. I couldn't be more proud of all of our campuses and their involvement, which demonstrates the dedication of our employees toward such a worthy cause."
Vista's Heart Walk campus participants included all seven of its Texas campuses, located in Amarillo, Beaumont, College Station, El Paso, Killeen, Longview and Lubbock, as well as its Las Cruces, New Mexico, and Fort Smith, Arkansas, campuses. Additionally, it includes Vista's online division at the Richardson headquarters. Vista College first became involved in Heart Walk in 2014 with the support of all of its on-ground campuses operating at that time, as well as its Richardson headquarters.
"The American Heart Association's Heart Walk is Vista College's primary way of giving back to our community," added Tolbert. "We look forward to this event each year with the hope of not only raising much needed funds for the American Heart Association, but also increasing awareness of ways we can prevent heart disease and strokes. Simply teaching others the importance of eating right and exercising within our communities goes a long way in the fight to reverse these two leading causes of death."
Vista College is a network of private, post-secondary career colleges offering a variety of training programs. These include healthcare, business, cosmetology, legal, technology and trades. Vista College offers online programs and has seven on-ground campuses in Texas (Amarillo, Beaumont, College Station, El Paso, Killeen, Longview and Lubbock), and campuses in Las Cruces, New Mexico, and Fort Smith, Arkansas. Vista College is accredited by the Commission of the Council on Occupational Education located at 7840 Roswell Road, Building 300, Suite 325, Atlanta, GA 30350. Call (770) 396-3839. Vista College also has a separate Online campus accredited by the Accrediting Commission of Career Schools and Colleges (ACCSC). Consumer information may be viewed at http://www.vistacollege.edu.