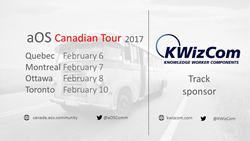 Toronto, ON (PRWEB) January 26, 2017
KWizCom, a leading developer of SharePoint Forms & Mobile Solution, as well as multiple other ground-breaking SharePoint add-ons and apps for Office 365, has been confirmed a track Sponsor of aOS Canadian Tour in Toronto, and joins other sponsors in bringing this event to the Microsoft Canada Head Office in Mississauga on February 10, 2017.
KWizCom will be participating in a speaking session, which will be presented by MVP Shai Petel, the Director of Research and Development at KWizCom. In his session entitled "Who Said You Have to Be a Power-User to Create Dynamic Forms in SharePoint/O365?", Mr. Petel will demonstrate how non-technical business users can quickly create powerful forms by using KWizCom Forms - a 100% SharePoint-native Forms solution for SharePoint on-premises and Office 365. All KWizCom session attendees will have the opportunity to win one of the two $100 BestBuy gift cards. A random draw will be conducted at the end of the session to determine the lucky winners.
The aOS Canadian Tour 2017 is a conference taking place in four different Canadian cities, over the span of five days. Starting February 6th the conference will tour from Quebec City, to Montreal, Ottawa all the way down to Toronto with some of the most influential speakers from Europe and Canada. The conference is aiming at delivering over 60 sessions to over more than 360 attendees and share the knowledge about some of the most common challenges organizations are dealing with when integrating Azure, Office 365 or SharePoint in their digitization strategies.
The aOS Canadian Tour is a free event aimed at both technical and non-technical audiences with a focus on the business challenges and the value technology can bring to the organization. To learn more about aOS Canadian Tour 2017 or to register for the conference, please visit http://canada.aos.community/ .
To learn about the SharePoint add-ons and apps for Office 365 that KWizCom Corporation is offering, please visit the company's website at http://www.kwizcom.com .
Follow KWizCom on Twitter: @KWizCom
Become a fan of KWizCom on Facebook: www(dot)facebook(dot)com/KWizCom
Join KWizCom on LinkedIn: www(dot)linkedin(dot)com/company/kwizcom
Contact a KWizCom Account Specialist at +1-905-370-0333/+1-855-KWIZCOM or info(at)kwizcom(dot)com
About KWizCom Corporation
Since 2005, KWizCom has provided innovative solutions and services to make SharePoint even better for over 7,000 companies worldwide. KWizCom is a leading provider of SharePoint Forms, Mobile, Wiki solutions, and over 80 other add-ons for SharePoint on-premises and apps for Office 365. KWizCom software is available to federal, state and local government agencies through GSA schedule. KWizCom is a Gold Certified Microsoft Partner is headquartered in Toronto, Canada.