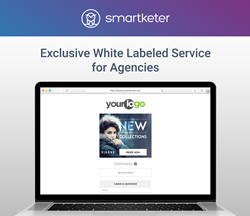 All banners created within the White Label feature are IAB compliant, compatible with Google AdWords, DoubleClick, AdRoll, Facebook Ads and much more.
San Francisco, California (PRWEB) January 30, 2017
After months of researching their customers' needs, Smartketer, a professional banner ads design service, is finally giving agencies what they want by launching the new White Label feature on January 27, 2017. They jump in, handing out a helping hand to all companies who are looking to outsource their services but don't necessarily want their clients to be aware of that.
This feature allows companies to share banner designs with their clients without revealing the fact that they are outsourcing. Agencies can create their own custom domain (e.g. banners.yourdomain.com), add the company's logo and just take credit for all the professional banners they get. Smartketer stays hidden.
How does it work?
Smartketer will take over the client's design brief. After that, they design the banners according to each client's specific guidelines and needs. All this, with the guarantee of a quick turnaround, constant customer support, high-quality ads that are compatible with major ad networks, respecting deadlines and time schedules.
This service also comes with a very specific feature that has been created to ensure a seamless flow of information between agencies and their clients. Each banner's share link includes a form where clients can leave their feedback. Agencies can share this information with Smartketer directly (so the designers can make modifications immediately) or they can ask for modifications by sending a message to their assigned designer.
Who are agencies working with?
All banner ads are created by professional and creative designers with vast experience in online advertising. Smartketer guarantees top quality and quick turnaround. All banners created within the White Label feature are IAB compliant, compatible with Google AdWords, DoubleClick, AdRoll, Facebook Ads and much more.
They also create ads for Facebook, Twitter or Instagram. Designers will fulfill all requirements for mobile banner ads, optimizing the designs to the set rules and regulations of each application.
This feature can help small agencies grow their potential client base without struggling with time management and the lack of workforce, or large agencies that just want to scale things up and need extra help.
White Label can be ideal for companies that are seeking support from professionals but don't afford to hire one, or they just can't find the right person. This feature will help agencies increase sales and customer satisfaction by simply opting for either one of their subscriptions. Smartketer offers a monthly subscription for 99$ per month and a yearly subscription that will save you 20% off from the initial price for just 951$ a year.
Smartketer is a company located in San Francisco that gained success after releasing their banner ads design service. Their services include static and animated banners (HTML5, GIF, and PNG) for ad campaigns, social media networks or mobile targeting.