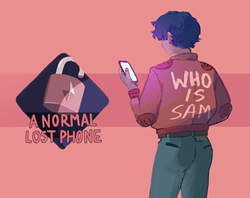 Paris, France (PRWEB) January 26, 2017
Independent developer Accidental Queens announced today that A Normal Lost Phone, a unique narrative mystery game exploring themes of sexuality, identity and growing up, is available now on iOS, Android and Steam (PC, Mac and Linux).
A new launch trailer can be viewed here.
Originally prototyped during Global Game Jam 2016, A Normal Lost Phone is a unique story experience centered around the discovery of the titular lost phone, with players invited to figure out what happened to its original owner, Sam. Searching through apps and texts in A Normal Lost Phone, players can uncover crucial pieces of information scattered among photo galleries and social networks, solving puzzles along the way, with their investigation allowing them to uncover the mystery surrounding Sam.
The original Global Game Jam 2016 prototype of A Normal Lost Phone was well received, showcased at events such as A Maze and Big Indie Pitch in Berlin, and winning the "Best Indie Game" award at Game Connection Europe 2016. The game also garnered an honorable mention in the Excellence in Narrative category at the Independent Game Festival 2017 taking place during GDC.
The full version of A Normal Lost Phone features new puzzles, new apps, in-depth narrative content, localized versions and a visual upgrade amongst other things. The full release of the game will be priced at $2.99.
The soundtrack for A Normal Lost Phone features 12 original tracks, each composed by a different independent artist. The soundtrack is now available and be acquired on a "pay what you want" scheme.
For more information visit the website of A Normal Lost Phone, follow the game on Twitter or like it on Facebook.
About Accidental Queens
Accidental Queens is a video game development studio founded by three women from the games industry and based in Tourcoing, France with a drive to create new kinds of game experiences. After the success of the prototype of A Normal Lost Phone at Global Game Jam 2016, Accidental Queens and two external collaborators worked hard and launched the full version of the game on January 26th, 2017 for Steam (PC and Mac), iOS and Android platforms. The studio seeks to create games that feature never before seen mechanics, exploring topics from everyday life and social questions, through innovative narrative tools.
About Plug in Digital Label
Plug In Digital Label makes the most out of independent video game studios and creators by supporting them, ensuring excellent promotion and distribution of their games, while leaving them great creative freedom. Initially on the international PC and console market, Plug In Digital Label is opening up to premium mobile games with Dead in Bermuda, SwapTales: Léon! and A Normal Lost Phone.