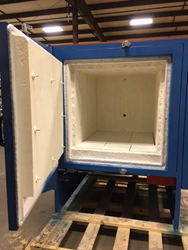 Riverside, Michigan (PRWEB) January 30, 2017
Lindberg/MPH announced the shipment of an atmosphere box furnace for research and development purposes.
The maximum temperature rating for this furnace is 1100°C and has a work chamber of 36" W x 48" D x 36" H making it ideal for heat treating a variety of part sizes. The atmosphere box furnace has a wide temperature range of 760°C to 1,100°C. The heat-treating furnace is constructed with mild steel construction and structural steel frame. A vacuum formed ceramic fiber insulation is used for quick heat up and low heat storage. A horizontal swing insulated plug door keeps the inner hot surface away from the operator when opening to charge or unload work. The programmable temperature controller is capable of running 50 programs with 500 segments. This capability allows the operator to set specific programs for the different parts that will be processed.
"By designing the furnace with a wide temperature range it provided the customer with the flexibility to process a variety of part sizes." – Jason Dobberstein, Sales Manager
Unique features of this Lindberg/MPH heat treat furnace include:

Vacuum formed ceramic fiber modules with low heat storage for fast heat up rates
Prewired, side mounted, forced air-cooled control console
Programmable controller
Vacuum formed ceramic fiber insulation
Horizontal swing insulated door plug
Door limit switch
Nitrogen atmosphere
This box furnace is CSA inspected and certified. All Lindberg/MPH equipment comes with an exclusive 3-year warranty, which covers all materials for all components (less wear items).
About Lindberg/MPH
Lindberg/MPH is a leading manufacturer of standard and custom industrial heat treat furnaces, including pit, box, IQ, and belt type for the ferrous and non-ferrous markets. Lindberg/MPH customers cover a wide range of industries including aerospace/military, automotive, commercial heat treating, energy/oil, electronics and the forging markets. Founded in 1917, the company has more than 75,000 industrial furnace installations worldwide and their equipment is backed by a full range of customer support services and the most extensive replacement parts inventory in the industry. Lindberg/MPH is a proven leader in the thermal processing industry, with a long track record of proven policies and management practices.
Lindberg/MPH is owned by Thermal Product Solutions ("TPS"), a leading American manufacturer of custom industrial ovens used for heat treating, finishing, drying, curing, manufacturing automation and process control. TPS is a global leader in thermal processing products and test solutions with brands including Baker Furnace, Blue M, Gruenberg, Tenney, Lindberg, Lunaire, MPH, and Wisconsin Oven. For more information on equipment solutions from TPS visit the website at http://www.thermalproductsolutions.com. #225149