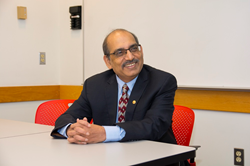 Worcester, Mass. (PRWEB) January 26, 2017
Brajendra Mishra, who serves as Kenneth G. Merriam Professor of Mechanical Engineering at Worcester Polytechnic Institute (WPI), has been named director of the university's Metal Processing Institute (MPI), a leading industry-university alliance dedicated to advancing the field of materials science through research conducted across four focused centers.
Mishra, who joined WPI in April 2015 as associate director of MPI and director of the MPI's Center for Resource Recovery and Recycling (CR3), will succeed Diran Apelian, Alcoa-Howmet Professor of Mechanical Engineering at WPI who launched MPI at WPI in 1996. As founding director of MPI, Apelian will continue to direct the activities of the Advanced Casting Research Center (ACRC).
"I'm elated to become the director and am looking forward to the challenge," said Mishra. "Taking over from someone like Professor Apelian is a big challenge and a distinct honor, knowing how active this institute is on campus and its extensive work with industry."
MPI, the largest industry-university alliance in North America, conducts research in the areas of metal casting (in ACRC), heat treating (in the Center for Heat Treating Excellence, or CHTE), resource recovery and recycling (in CR3), and most recently materials processing (in the Center for Materials Processing Data, or CMPD). Each of the four research centers has multiple industry members, which pay an annual membership fee to support noncompetitive research by MPI faculty members and students.
Mishra said his initial goals include furthering CMPD, which will be focused on data that supports the aerospace and automotive industries; expanding MPI's membership base (notably in CR3, an NSF Industry/University Cooperative Research Center); and developing a more robust materials science curriculum for WPI graduate students. In addition, MPI is expanding globally and in 2017 will launch a new center at Shanghai Jiao Tong University in Shanghai, China, dedicated to non-destructive evaluation.
Ultimately, Mishra said, MPI will continue to focus on serving the metals and materials industrial base. "The primary purpose of MPI is to solve industry problems, to develop new methods or materials for the industry, or even to share fundamental results that companies are seeking," said Mishra.
Mishra, who joined WPI from the Colorado School of Mines, has collaborated with Apelian for the past 15 years. The pair initially worked together through the Minerals, Metals & Materials Society (TMS), where both previously served as president at different junctures. As a result of these collaborations, he has high praise for Apelian.
"Diran in himself is an institution," said Mishra. "What he has done for WPI and MPI is incredible. He started MPI with one center and is now up to four centers."
Mishra also said Apelian has taken the time to mentor him. "I consider him as a coach, but not a coach who coaches from the sidelines," said Mishra. "He's on the field with me and with his students and other people on campus. And when he does that, he's engaged not just with his words but with his actions. When you see him talk to people—whether it's on the phone interviewing someone or talking with people in industry—it's just an inspiration."
Apelian lauded Mishra's dedication to MPI, and his vision for its future.
"One of the best gifts in life is to be able to execute what you are passionate about, and then witness its continued success when you are no longer at the helm," said Apelian. "Brajendra Mishra is a distinguished colleague, an eminent scholar and engineer, a dear friend, and a beautiful soul. I cannot think of a better person to take over the duties of MPI and lead it to greater heights."
To learn more about MPI, visit here.
About Worcester Polytechnic Institute
Founded in 1865 in Worcester, Mass., WPI is one of the nation's first engineering and technology universities. Its 14 academic departments offer more than 50 undergraduate and graduate degree programs in science, engineering, technology, business, the social sciences, and the humanities and arts, leading to bachelor's, master's and doctoral degrees. WPI's talented faculty work with students on interdisciplinary research that seeks solutions to important and socially relevant problems in fields as diverse as the life sciences and bioengineering, energy, information security, materials processing, and robotics. Students also have the opportunity to make a difference to communities and organizations around the world through the university's innovative Global Projects Program. There are more than 45 WPI project centers throughout the Americas, Africa, Asia-Pacific, and Europe.
Contact:
Andy Baron, Senior Manager of Trade Communications
Worcester Polytechnic Institute
Worcester, Massachusetts
508-831-5916, ajbaron(at)wpi(dot)edu