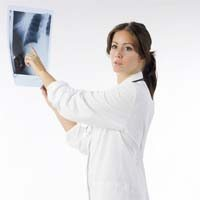 MRT following EPP achieved excellent local control for MPM, that might lead to the long-term survival in selected patients.
Raleigh, NC (PRWEB) January 27, 2017
Scientists at Kyoto University say pleural mesothelioma patients who receive intensity modulated radiotherapy after radical surgery may have a chance for extended mesothelioma survival. Surviving Mesothelioma has just published an article on the new research. Click here to read it now.
In the new study, 21 pleural mesothelioma patients were prescribed a dose of 50.4 Gy of radiation delivered to the margins of their tumor resection sites with highly precise IMRT.
Although 15 patients developed radiation-related toxicities, some of them severe, more than a third of patients (37%) were still alive three years after treatment.
"IMRT following EPP achieved excellent local control for MPM, that might lead to the long-term survival in selected patients," writes study author Yukinori Matsuo.
In spite of the fact that three of the mesothelioma patients experienced an amazing 5+ year survival, Matuso and his colleagues say the potential toxic effects of IMRT need to be seriously considered before implementing this mesothelioma treatment approach.
"All mesothelioma treatments have their plusses and minuses, but it is exciting to note the long-term survival experienced by a few of the patients in this small study," says Alex Strauss, Managing Editor for Surviving Mesothelioma. "Our goal is always to empower patients and families with the information they need to make the best mesothelioma treatment decisions."
To read the details of the Japanese study, see Mesothelioma Patients See Long-Term Survival with EPP and IMRT, now available on the Surviving Mesothelioma website.
Matsuo, Y, "Long-term outcomes of intensity-modulated radiotherapy following extra-pleural pneumonectomy for malignant pleural mesothelioma", January 24, 2017, Acta Oncologica, Epub ahead of print, http://www.tandfonline.com/doi/full/10.1080/0284186X.2017.1279749
For nearly ten years, Surviving Mesothelioma has brought readers the most important and ground-breaking news on the causes, diagnosis and treatment of mesothelioma. All Surviving Mesothelioma news is gathered and reported directly from the peer-reviewed medical literature. Written for patients and their loved ones, Surviving Mesothelioma news helps families make more informed decisions.