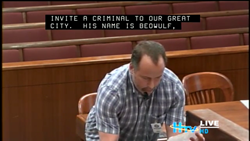 We have obviously been inspired by the intersection of celebrity and performance and his use of social media. We can't wait to welcome him to Houston! - Julia Wallace
Houston, TX (PRWEB) January 30, 2017
Shia LaBeouf is a celebrity and performance artist. Inspired by his performance art work, the Houston performance art community is taking to social media to entice his presence at their international performance art festival. Experimental Action International Performance Art Festival takes place Thursday, February 23 - Saturday, February 25, 2017.
In hopes of adding the celebrity artist to their lineup, the festival has made an open call to their artist community for "viral-esque" videos that feature the hashtag #ShiaShowUp as part of the grassroots, viral campaign. The campaign aims to garner enough attention and excitement to alert and seduce the celebrity performance artist to be a part of their performance art festival.
The campaign seemingly began on Wednesday, January 10, 2017, when performance artist Jeremiah Carroll petitioned the Houston City Council to create an ordinance to ban Shia LaBeouf from the city. Since then, there have been more eyebrow-raising videos to emerge from the campaign which can be viewed on their Facebook page. There is an open invitation letter addressed to LaBeouf inviting the celebrity artist and his collaborators, Nastja Säde Rönkkö and Luke Turner, to their festival.
"Shia LaBeouf's performance art work is exemplary and aligns with our festival's intention to spotlight groundbreaking work," said co-director Julia Wallace. "We have obviously been inspired by the intersection of celebrity and performance and his use of social media. We can't wait to welcome him to Houston!"
About Experimental Action International Performance Art Festival
Experimental Action is a three day international performance art festival that facilitates and shines a spotlight on experimental performance art that excites, inspires, and pioneers ideas. Showcasing both local and international artists, we aim to cultivate an environment of engagement and exchange that expands artistic possibility through progressive creative action while exposing Houston audiences to innovative performance art.