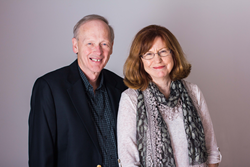 Portland, ME (PRWEB) January 26, 2017
Helen and Bob Johnson have always had a desire to help people, so when they had an opportunity to turn that passion into a business, they decided to take a chance. Now the couple is pleased to announce the official grand opening of their new business, Caring Transitions of Coastal Maine.
Caring Transitions is America's largest resource for managing senior relocations as well as downsizing and estate liquidations. In addition to organizing, packing, de-cluttering, moving and resettling, Caring Transitions can handle estate sales, liquidations, and preparing homes for market. Caring Transitions of Coastal Maine serves Portland, Falmouth, Freeport, Brunswick, Boothbay, Lewiston, Auburn, Windham, Topsham, Yarmouth, Lisbon, Sabattus, Cumberland County, Sagadahoc County, Androscoggin County and the surrounding areas.
Prior to opening Caring Transitions of Coastal Maine, Helen had a long career in bank management and Bob, a volunteer pilot for the Civil Air Patrol, retired from a career in retail management. Helen approached Bob about opening their own business – which had a soft launch this summer – after deciding it was time to move on from the world of banking.
"My position at the bank was eliminated and it gave me an opportunity to think about what I really wanted to do. Being in banking just sort of happened, but my passion has always really been helping people, especially seniors," Helen said. "It's a little scary to open a new business at this stage of our lives, but we are extremely excited about being able to provide Caring Transitions' services in our community."
Whether your situation is planned or unexpected, Caring Transitions' services are perfect for seniors moving in with family or into a safer living situation as well as busy families and people clearing out the home of a loved one who has passed. All of Caring Transitions' services are customizable, so clients only pay for the services they need – whether that means managing the entire move and estate-clearing or just getting someone resettled into their new place.
"When you work with Caring Transitions, it's easier to see the light at the end of the tunnel. We will come in, help you create a plan that suits your needs and work with you to complete your goals. We will treat you fairly and help you work through your transitions, no matter how large or how small," Helen said.
Helen and Bob have been married for four years and, between them, they have five children and five grandchildren. Helen said their love of family is part of what convinced them that Caring Transitions would be a good fit.
"We've experienced what many of our clients have gone through – we've lost loved ones and had to work through settling their estates. It's a difficult and emotional life experience, but it's something you don't have to do alone. Caring Transitions is here to help," Helen said.
Helen is a Certified Relocation and Transition Specialist, a designation bestowed by an independent organization that evaluates providers of senior relocation services. Caring Transitions of Coastal Maine is bonded and insured and all employees are background-checked. For additional information, contact Helen or Bob at (207)218-5197, email HJohnson(at)CaringTransitions(dot)com or visit http://www.CaringTransitionsofCM.com.
About Caring Transitions
Caring Transitions, founded in 2006, is the first national franchising concept specializing in senior relocation and transition services. With nearly 200 locations throughout the United States all owned and operated by Certified Relocation and Transition Specialists, Caring Transitions provides clients with supportive moves, auctions, rightsizing and transitions. This includes expert advice plus a well-executed transition plan beginning with the initial sorting of personal belongings through packing, shipping and selling of items to the final clearing and cleaning of the property. For more information, visit http://www.caringtransitions.com or visit us on Facebook.