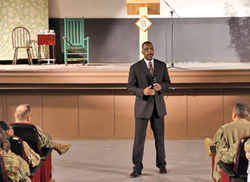 Suitland, Maryland (PRWEB) January 27, 2017
Michael Bartelle, VP European Operations at Andrews Federal Credit Union, recently served as a keynote speaker for the U.S. Army Garrison-Wiesbaden's Dr. Martin Luther King, Jr. observance at Clay Kaserne's Tony Bass Auditorium.
The Department of Defense theme was "Remember! Celebrate! Act! A Day On, Not a Day Off!" Bartelle quoted excerpts from King's "Drum Major Instinct" sermon, originally delivered on February 4, 1968.
"I wanted to relay the importance of viewing Dr. King's legacy of harnessing the desire to be in the forefront of change," said Bartelle. "I believe everyone has the innate ability to serve selflessly."
Bartelle also explained how Dr. King's approach to the American dream was not social change just for the African American community. "This was civility and dignity for all people, to ensure the American dream was fulfilled by all, whether you were of color, a woman, poor, or a child."
Dr. King was born January 15, 1929 and assassinated April 4, 1968 in Memphis, Tenn. This year's event commemorates his 88th Birthday. The event was supported by members of the 5th Signal command, 102nd Signal Brigade, U.S. Army Europe, 66th Military Intelligence Brigade and U.S. Army Garrison Wiesbaden.
About Andrews Federal Credit Union
Andrews Federal Credit Union was founded in 1948 to serve the needs of military and civilian personnel by providing a vast array of financial products and services. With over $1.4 billion in assets, Andrews Federal has grown to serve more than 119,000 members in the District of Columbia, Joint Base Andrews (MD), Springfield, Virginia (VA), Joint Base McGuire-Dix-Lakehurst (NJ), and military installations in central Germany, Belgium, and the Netherlands. In addition, the Credit Union serves as a financial partner with many select employee groups in Maryland, the District of Columbia, Virginia and New Jersey.
To learn more about Andrews Federal Credit Union and its community involvement, or to become a member, call 800.487.5500 or visit http://www.andrewsfcu.org.