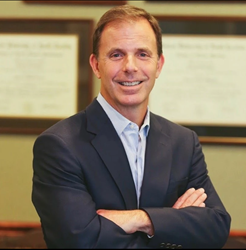 Statesville, NC (PRWEB) January 26, 2017
New patients with dental fear in Statesville, NC, are now invited to visit Dr. Kenneth Peavy, experienced periodontist, for sedation dentistry, with or without a referral. Dental fear is commonly experienced by patients of all ages and causes between five percent and eight percent of Americans to avoid visiting the dentist. Dr. Peavy seeks to alleviate patient anxiety and help nervous individuals receive the care they need by providing convenient and calming sedation dentistry services.
In addition to providing gentle and effective periodontal treatments, Dr. Peavy, compassionate periodontist, seeks to further enhance patient comfort by offering a variety of custom sedation dentistry options to those who have dental fear in Statesville, NC. Before recommending a specific type of sedation, Dr. Peavy takes each patient's needs and levels of anxiety into account.
The sedation options offered at Dr. Peavy's practice include local anesthetic, nitrous oxide, oral or intravenous sedation, and general anesthesia. Local anesthetic is the most common type and is administered via an injection that targets the treatment area. Nitrous oxide is typically sufficient for mild to moderate levels of dental anxiety and is administered via a mask that comfortably covers the nose. This mild form of sedation can be adjusted to meet each patient's needs and usually wears off within 15-20 minutes of being removed. Oral sedation is preferred by many patients who feel very nervous about receiving treatment. It comes in the form of a tablet that should be taken approximately 30 minutes prior to treatment.
Intravenous sedation is administered via an IV and helps the patient achieve a deep state of relaxation while still being conscious and able to respond to directions from Dr. Peavy. General anesthesia is reserved for the most serious cases of dental fear. It renders the patient unconscious and is administered by an anesthesiologist.
Patients with mild to severe dental fear in Statesville, NC, are encouraged to meet with Dr. Peavy, respected periodontist, and discuss the sedation options that will work best for their needs. Appointments can be reserved by calling 336-774-3001.
About the Doctor
Dr. Kenneth Peavy is a periodontist offering personalized dental care for patients in Winston-Salem, NC, since 1996. Dr. Peavy completed his undergraduate studies at the University of North Carolina at Chapel Hill. He earned his dental degree at the Medical University of South Carolina in 1989, College of Dental Medicine. He finished his residency program in General Dentistry at the Medical College of Georgia and his certificate in periodontics at the Medical University of South Carolina. He also earned his Master's Degree in Health Sciences. Dr. Peavy joined an exclusive group of doctors to offer The Pinhole Surgical Technique (PST™) for gum recession treatment. To learn more about Dr. Peavy and his dental services visit his website at http://www.happygumshop.com and call (336) 774-3001.