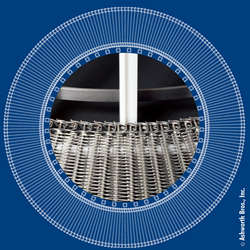 WINCHESTER, VA (PRWEB) January 26, 2017
Ashworth Bros., Inc., the industry pioneer and leading conveyor belt manufacturer, recently introduced the Ashworth PosiDrive Spiral™ System. The unique cage design maintains product orientation, lowers belt tension and increases production capacity.
"The Ashworth PosiDrive Spiral is all about maintaining product orientation and preventing product movement without impacting downstream processes which in turn, saves you time and money!" said Joe Lackner, Vice President for Ashworth Brothers, Inc.
Positive Value
The positive drive concept of the PosiDrive Spiral keeps belt tensions low—which helps to increase belt life throughout sanitizing cycles and allows for increased product load capacity. The PosiDrive Spiral system allows product dwell time to be easily set through the use of a simplified single speed control and is offered for various cage configurations that require only minor design changes making it ideal for new spiral systems.
The PosiDrive Spiral is ideal for retrofitting existing proofing, cooling, and freezing spiral applications. "Offering a product that gives you the ability to seamlessly retrofit your current system combined with Ashworth's own team of Factory Service spiral experts is the perfect combination for any business looking to maximize their equipment efficiency," added Lackner. "Simply put, we provide a simplified solution to make your job easier."
Ashworth Bros., Inc., headquartered in Winchester, Virginia, is the only conveyor belt company that manufactures and services both metal and plastic belting for straight running, turn-curve, lo-tension and self-stacking spirals—offering customers the best solution for their specific requirements. With over 70 years of revolutionizing the future of conveyor belts, Ashworth continues to lead the market with the most conveyor belt patents in the food processing, can making, and material handling industries. Companies around the world depend on Ashworth's quality products, reliable customer service, innovative solutions and experienced Factory Service team to maximize throughput and minimize lifecycle costs.
For more information on Ashworth Bros., Inc. contact us at (800) 682-4594 or visit http://www.ashworth.com.
###